Autumn 2018
NAO Malta Hosts Contact Committee Liaison Officer Meeting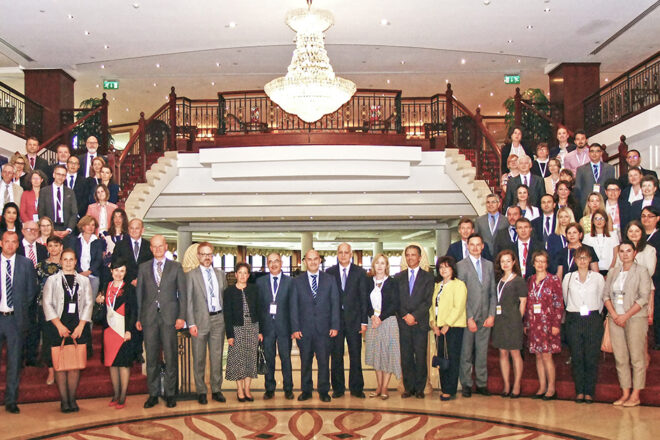 The National Audit Office of Malta (NAOM) hosted the 2018 European Union (EU) Supreme Audit Institution (SAI) Contact Committee Liaison Officers Meeting earlier this year. The event, held to prepare for the EU Contact Committee meeting, which took place in Croatia in October, included 66 participants from the 28 EU member state SAIs, European Court of Auditors (ECA), as well as EU candidate and potential candidate country SAIs (who attended as observers).
In his welcome address, Charles Deguara, Malta's Auditor General, highlighted the auditor's critical role in exercising the fundamental values of accountability and transparency—the essence of good governance.
"The work of liaison officers is key to ensuring current changes and developments within the EU are highlighted and brought to the attention to, and acted upon by, SAI leaders," he emphasized.
Leo Brincat, the ECA's Maltese member, also spoke to participants and discussed the ECA's future strategy and efforts at anticipating emerging issues. Brincat touched on the ECA's Foresight Task Force, a team designed to focus on long-term, relevant future developments and determine how these developments will affect audit procedures, methodology and products. He encouraged participants to undertake a similar approach and exchange experiences with the ECA while safeguarding autonomy.
NAOM Assistant Auditor General, Brian Vella, chaired and moderated the meeting that incorporated reports on recent activities and progress of working groups, task forces and networks within the Contact Committee framework. Next steps and a proposed way forward drew the meeting to a close.
In a separate event, EU candidate and potential candidate SAIs met to discuss current and planned audit activities to help strengthen audit processes. Twenty-three SAI delegates participated, along with two EU member state SAIs, the ECA, and representatives from Support for Improvement in Governance and Management (SIGMA)—a joint initiative of the EU and the Organisation for Economic Co-operation and Development (OECD).