Inside INTOSAI
OLACEFS Anti-corruption Working Group Focuses on Environmental Crimes, Mutual Assistance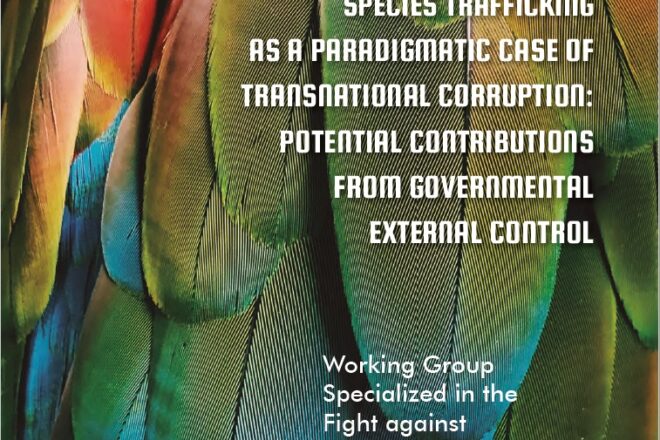 by María Isabel Vásquez Paredes, Expert Supervisor of International Affairs, Office of the Comptroller General of the State of Ecuador
From 2021 to 2022, the Working Group Specialized in the Fight against Transnational Corruption (GTCT) of the Organization of Latin American and Caribbean Supreme Audit Institutions (OLACEFS) conducted a variety of activities. The president of GTCT is the Office of the Comptroller General of the State of Ecuador, and the group includes 17 Supreme Audit Institutions (SAIs) from the region.
GTCT developed a Manual of Good Practices in the Fight against Corruption, which provides OLACEFS members with a set of strategies and procedures to enhance internal controls, public integrity, citizen participation, and use of technological innovations. The manual is available in English, French, Spanish, and Portuguese.
GTCT also investigated the nexus between transnational corruption and environmental crimes, and it published a strategic document (available in English, Spanish, and Portuguese) on wildlife trafficking in the region, related international regulations, and how SAIs can strengthen controls to help prevent this illicit trade.
In response to the COVID-19 pandemic, GTCT initiated a coordinated audit—supported by the German Development Cooperation Agency (GIZ)—in which 10 SAIs in the region will evaluate the planning, execution, and oversight of public assistance programs in their countries. GTCT held a planning and training workshop for the audit from May 10-14, 2021.
In the area of capacity building, GTCT led two series of trainings for the OLACEFS community, with 136 participants, on international regulations and anti-corruption strategies. GTCT is currently developing a legal and technological framework for exchanging information among SAIs, as well as an international certification on fighting corruption.