News in Brief
Belgian Court of Audit Receives ISO 9001:2015 certification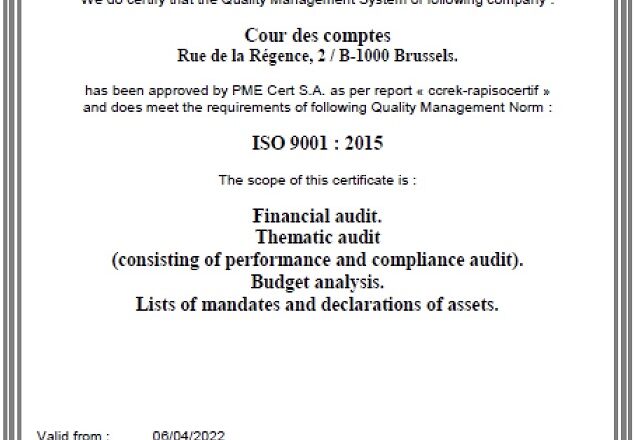 Author: Belgian Court of Audit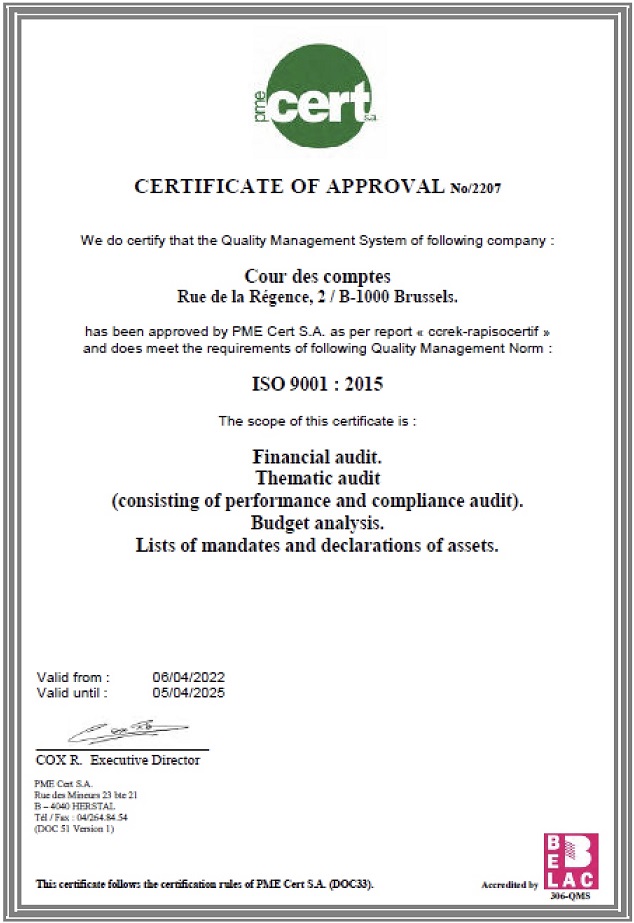 The Belgian Court of Audit received its ISO 9001:2015 certification for the following processes leading to its core products:
financial audit;
performance and compliance audit;
budget analysis;
lists of mandates and declarations of assets[1].
The ISO 9001:2015 certification demonstrates the Belgian Court of Audit quality management system (QMS)'s ability to consistently provide products and services that meet customer and applicable statutory and regulatory requirements, and aims to demonstrate continuous improvement.
In view of the ever present and continuously growing importance of quality, the Court decided to restructure its QMS. The QMS must guarantee the high quality of the Court's products and demonstrate that every effort is made to achieve and continuously improve quality. The Court made a list of requirements for the future QMS, ensuring that the system should be authoritative and internationally recognized, and able to evolve along with new insights into quality thinking. The QMS should also be compatible with the INTOSAI Framework of Professional Pronouncements (IFPP). Additionally, the QMS needs to be able to be certified externally and independently, and able to be integrated in the existing processes of the Court.
Based on those requirements, the Belgian Court of Audit decided to restructure the QMS according to the requirements of the ISO 9001:2015 standard, and to prepare for external certification during the first quarter of 2022. The result was highly positive: the Belgian Court of Audit's QMS fulfills the requirements of the ISO 9001:2015 standard, and the official certification was awarded to the Court on 6 April 2022.
Moving forward, the Court will never cease to strive for the highest quality because, as Mr. Philippe Roland, Senior President of the Court of Audit, noted at the start of the certification project, "quality is the very foundation of our credibility as an institution".
[1] Besides its usual audit tasks (financial, performance and compliance audits) and an advisory role concerning the government budget, the Belgian Court of Audit has been entrusted with a number of specific tasks. Amongst these is a series of tasks ranging from review and filing to the publication of the lists of mandates and declarations of assets that certain categories of political representatives and senior officials are required to file.