Inside INTOSAI
INTOSAI Development Initiative Publishes Report on Independence Threats to SAI Montenegro
October 9, 2023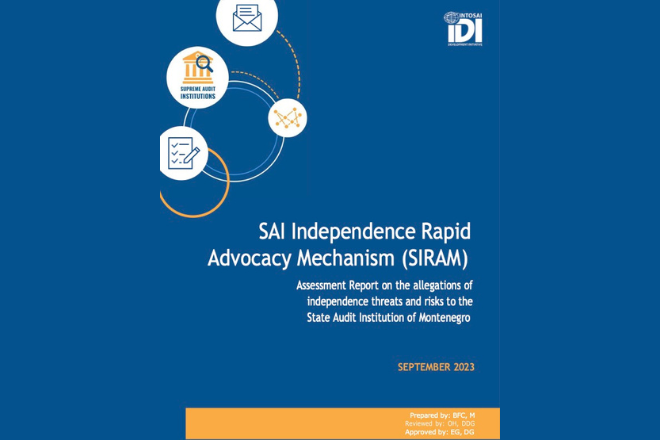 On September 29, 2023, the INTOSAI Development Initiative (IDI) published a new SAI Independence Rapid Advocacy Mechanism (SIRAM) Assessment report on the allegations of independence threats and risks to the State Audit Institution of Montenegro.
The IDI's SIRAM has been designed to provide a timely and coordinated response to threats and breaches to the independence of SAIs. Independence must be defined and understood according to the principles provided by the INTOSAI Lima and Mexico Declarations. The SIRAM follows a four-stage process which includes:
Information: IDI is informed of the threat of breach to independence.
Assessment: IDI carries out an assessment to determine whether the situation is linked to an infringement of one or more of the Mexico Declaration principles. The assessment includes consultations with a wide range of stakeholders both at the country and global level to gain broader contextual understanding.
Response: IDI implements one or a combination of existing tools, such as conducting an in-country advocacy visit; issuing a statement of concern, and; supporting the development of model legislation.
Follow-up: IDI monitors how the response is being implemented and verifies whether other additional measures are needed.
IDI received a request from Mr. Nikola. N. Kovacevic, Acting President of the Senate of the State Audit Institution (SAI) of Montenegro, to initiate IDI's SIRAM process, alleging challenges and potential threats to the independence of the SAI. The SIRAM for SAI Montenegro aimed to assess the extent to which the lack of appointments in the Senate of the SAI, as well as the potential reform on the law represent either a threat or a risk to the independence of the SAI in relation to the Mexico Declaration principles.
Following a robust review, in which the methodology included the analysis and review of documents and obtained testimonies, IDI found that the delay in the appointments of the President and the fifth member of the Senate represent an infringement to Principle 2 of the Mexico Declaration. In addition, the lack of the appointment of the fifth member of the Senate represents an interference of the Legislative in the operation of the SAI in terms of principle 3 of the Mexico Declaration. Although the proposal to modify the Audit Law is not an infringement to the Mexico Declaration principles, the reform discussion process should be monitored.
Read the full SIRAM report for SAI Montenegro here.
To learn more about the IDI's SIRAM Assessments, watch the video below, or visit: https://www.idi.no/work-streams/independent-sais/siram.