INCOSAI XXII Edition
Staats Award Winner on Stakeholder Engagement, Success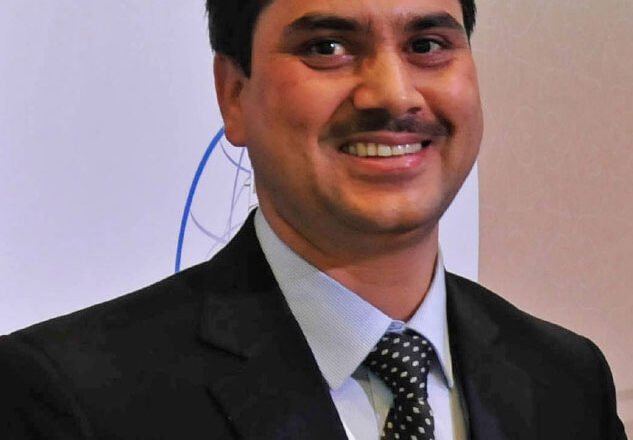 Chandra Kanta Bhandari from the Office of the Auditor General of Nepal was presented with the Elmer B. Staats award at INCOSAI XXII. He sat down with the INTOSAI Journal after receiving the award for an exclusive interview on how Supreme Audit Institutions (SAIs) continuing Civil Service Organization (CSO) engagement will lead INTOSAI toward future success, providing perspectives on the relevance of his winning Journal article, "Engaging Civil Service Organizations in SAI Audit."
Q: What do you see as the future of CSOs and SAIs?
CSOs represent the communities at the local level. They have first-hand information as to government programs at the citizen level, which will be very significant for SAIs to plan their audits and conduct audits accordingly. If we can engage them, then we can get better information.
CSOs can also create pressure to make improvements in public service delivery based on audit results of SAI reports. At present, there is a growing demand of open and responsive government. In these contexts, SAIs can play leading roles by engaging CSOs or stakeholders to strengthen public transparency, accountability and integrity, which will ultimately contribute to making a difference in the lives of citizens.
Q: What would make the relationship between CSOs and SAIs more successful?
More interaction, discussion and sharing information. That will help. CSOs have to show their relevance to the local people. Both CSOs and SAIs have accountability to the citizens—so that we can achieve the final agenda. If we don't work in public interest, in the interest of the citizens, we cannot show our relevance and there is a risk of losing public trust and becoming obsolete over time. Working together is key!
Our fundamental objective is to demonstrate accountability, transparency and integrity in the public sector so that the citizens can get benefits from the government programs and policies.
Q: What are some factors than can impact success?
Some countries may face governance or other challenges, such as lack of resources, despite efforts to benefit the citizens. Then there are those situations where corruption is prevalent. It is very difficult to work in these contexts. SAIs have an important role to play. We can see it two ways. In a weak environment, the SAI has to deeply engage, focusing heavily on the internal controls aspects as well as the pertinent issues in conducting its audit, and not lose sight of its objectives. On the other hand, in a stronger environment as evident by a system of internal control, SAIs may concentrate on performance audits, which will provide new knowledge, new insights and will add value to improve public service delivery for the benefit of citizens.
The best thing for SAIs to do is to try to find the right balance in going about their work. In engaging CSOs or stakeholders at different processes of audit, SAIs may better promote transparency and accountability and more effectively carry out their constitutional responsibilities.
To use the analogy of a football game, where the SAI is the goalkeeper, it would be very difficult for the SAI to protect the goal when all the other team members are weak. Our focus should be at strengthening the capability of all the players to win the game.