News in Brief
SAB Kuwait Publishes 2018 Citizens Report, Special ALRAQABA Issue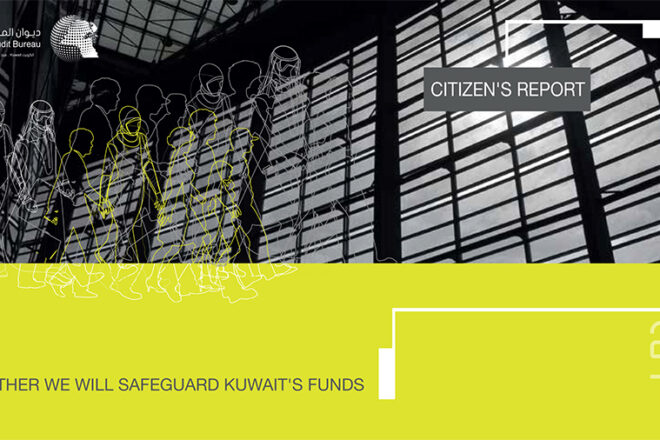 The State Audit Bureau (SAB) of Kuwait recently published the "2018 Citizens Report"—the first publication that addresses citizens with an aim to raise awareness about the SAB, its role in protecting public funds and citizen involvement in overseeing the community.
The publication urges citizens and civil society organizations to participate in public accountability and highlights the most important issues affecting society. Features include an in-depth look at the SAB as an independent audit body that supports and assists the government and National Assembly in collecting revenues and expending funds within the budget.
Readers will also learn more about the SAB's strategy and governance, including the SAB's foundation—mission, vision, values and strategic goals—and objective to exercise responsible management by employing a set of policies and procedures to create a working environment that supports justice, transparency and accountability.
Several key issues affecting citizens and society are also detailed in the report, such as the delay in the completion of Sabah Al-Salem City; allocation of lands by the Public Authority of Agriculture Affairs and Fish Resources; mismanagement of overseas health care; state budget deficit resulting in the use of public debt for payments; overfishing and fish resources; and coastal pollution.
A "Q&A" section provides insight and explanation into some of the most often received inquiries, and the ability to scan and connect to specific topics using quick response codes makes facilitates information access to all.
Download your copy of the SAB's "2018 Citizens Report" here.
A special issue of ALRAQABA Magazine (English) is also available online. This issue highlights SAB participation and support to the International Organization of Supreme Audit Institutions (INTOSAI), including the joint INTOSAI Capacity Building Committee/INTOSAI-Donor Cooperation Steering Committee meeting hosted by the SAB in Kuwait.