Autumn 2021
Observations of a Technical Advisor to Developing SAIs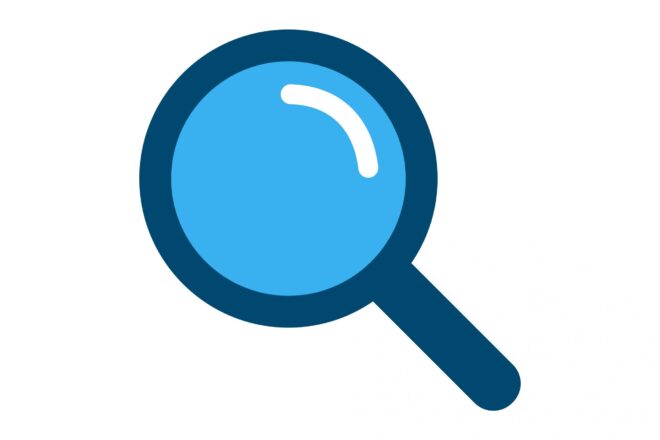 by Wilf Henderson, International Technical Advisor, and Manager (Retired), United Kingdom National Audit Office
Over the past decades—with the support of development partners, INTOSAI Development Initiative (IDI), INTOSAI regional bodies, and external consultants—many developing Supreme Audit Institutions (SAIs) have made considerable progress toward meeting internationally recognized standards. However, there is still a great deal of work to be done.
The following are personal observations of a technical advisor, gleaned from more than 40 years' experience, on the continuing challenges facing developing SAIs. They do not necessarily represent the views of others.
SAI Legislation. Many developing SAIs face challenges with independence—which is key to their ability to perform effectively—even when it is enshrined in law. For example, when audit acts have come into force, some SAIs have not prepared regulations to help implement the legislation. Doing so can help ensure that provisions of new legislation are effectively implemented.
Another concern is that some audit acts have given SAIs powers beyond those required by INTOSAI standards, such as the ability to fine officials. SAI legislation should be reviewed to ensure it meets INTOSAI requirements and does not provide opportunities for dubious practices.
Appointment of Auditors General. Appointments of Auditors General (AGs) are not always transparent, and at times, heads of state appoint AGs to follow particular agendas. Governments should follow guidance produced by INTOSAI, or existing SAI legislation if it meets those requirements, when appointing AGs.
Strategic Plans. Many SAIs believe that strategic plans are for a fixed period—usually five years—and should not be updated until they expire. Moreover, SAIs often do not have the financial resources to fully implement them.
To address this, strategic plans should include budgets that account for all costs; be reviewed and updated at least annually, taking into account changing circumstances; and be submitted to the legislature, to secure support and the funds necessary to implement them. SAIs would also do well to contact development partners, to secure support.
Top-Down Management. Some AGs are reluctant to delegate responsibility, and managers reluctant to take it, which can slow down business processes and impede staff from developing managerial skills. Shifting the organizational culture from a top-down approach can empower managers to take responsibility for their own departments.
Limited Support. Leadership at the Auditor General level has improved over the past 20 years. However, if AGs do not enjoy strong support from the government and legislature, or if governments interfere in the budget process, then their influence will be limited. AGs will struggle if budgets are insufficient to enhance staff capacity and provide adequate facilities. Enabling budgets to be approved by the legislature, without government interference, can help SAIs receive the funding they need to implement their mandates.
Staff Capacity. The staff of many SAIs do not have the necessary qualifications to audit to international standards. Development partners often provide funding for training, but this is insufficient to professionalize the entire institution. Training and career development plans are essential and should be integrated into a performance management system. In addition, without a formal performance appraisal system, SAIs are unable to determine whether staff are capable of performing their duties to the required standards and are suitable for promotion.
Methodologies and Practices. Moving from outdated to modern auditing methodologies poses considerable challenges for SAIs. By analyzing training needs and developing key competency frameworks, SAIs can help staff acquire the skills they need to make this transition.
SAIs can also encourage staff to adapt to new circumstances by implementing effective change management strategies. Effective quality assurance processes and documentation standards are also key to meeting current INTOSAI standards.
When new legislation has been established to create an independent organization, SAIs may need assistance from development partners in establishing new functions—such as Human Resources; Accounting, including preparation of financial statements; Internal Audit; and Legal Affairs.
Relationship with Clients. Many clients believe SAIs seek only to find fault. As a result, audited entities may not provide SAIs with adequate documentation, and SAIs may struggle to find alternative forms of evidence. When SAIs change their approach from apportioning blame to adding value, they build trust and contribute to better government. A client relations improvement program can also help.
Relationship with Governments. Many SAIs operate in an environment in which governments do not prepare financial statements, or if they do, the statements fall short of international standards. SAIs are often not proactive in encouraging governments to improve in this area. SAIs should work with governments to agree to national accounting standards and financial statements that meet international standards.
Another concern is that governments can lose respect for SAIs that issue audit reports late. For example, one Minister of Finance did not want to provide more funds to the country's SAI, because its annual reports on the financial statements were regularly over a year late and therefore of little use in helping secure improvements to systems and procedures.
Public Awareness. The public does not fully understand the role and mandate of SAIs. Raising their profiles with the media and civil society—such as through stakeholder workshops and press conferences—helps SAIs promote the benefits of their independence and effectiveness and publicize audit reports.
Role of Development Partners. Development partners play an important role in supporting developing SAIs and could do even more to help, such as:
Exerting greater influence over governments to support SAI independence;
Making clear how they decide which SAIs to support;
Empowering SAIs to audit their own programs, rather than bringing in outside experts;
Making sure they fully understand the roles and needs of developing SAIs, and creating a coordinated strategy for providing support to SAIs;
Incorporating support for SAIs and Public Accounts Committees into public financial reform programs; and
Encouraging SAIs to continue implementing reforms even after technical assistance projects end.
Addressing the above challenges through investment and education will better enable SAIs in developing countries to perform their work effectively. This is critical during the pandemic, when there is an even greater need for competent SAIs to provide assurance that governments are spending public funds wisely and managing donated funds effectively.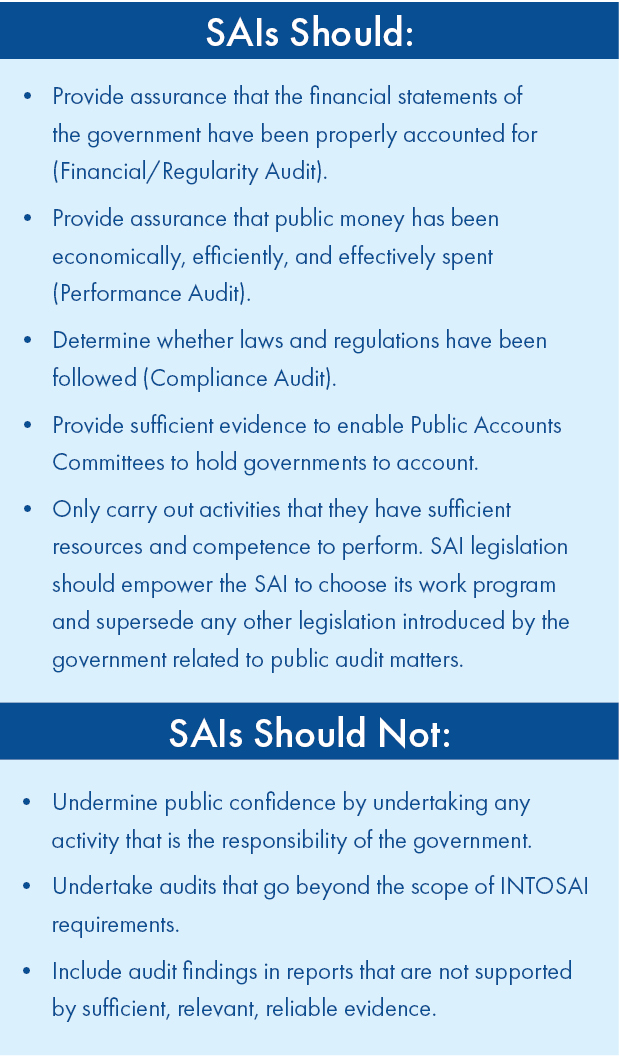 Featured image: yafi4/AdobeStock