EUROSAI
EUROSAI Takes Part in United Nations Climate Change Conference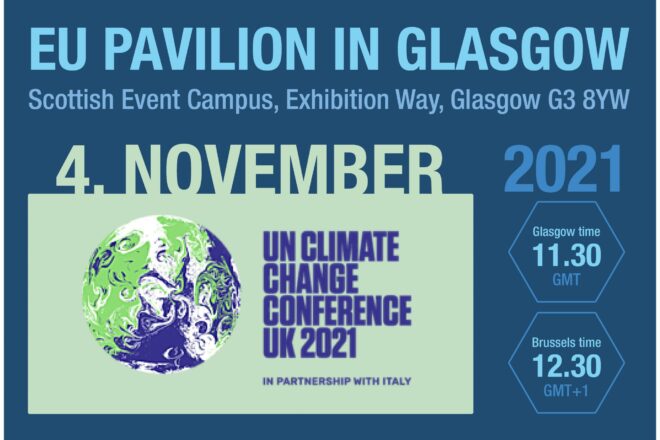 On November 4, 2021, the European Organization of Supreme Audit Institutions (EUROSAI) and European Court of Auditors (ECA) held a panel discussion, "Translating Climate Ambition into Delivery," as part of the United Nations Climate Change Conference COP26 in Glasgow. Around 200 representatives from governments, research and audit institutions, and civil society attended.
Upon the initiative of the Auditor General of Israel, Vice-President of EUROSAI, the event was organized at the European Union Pavilion by the State Audit Office of Latvia. A video of the panel discussion is available here.
In her opening remarks, Ms. Eva Lindström, Member of ECA, underscored that "auditors should provide a reality check on what concrete actions will be taken on the way to a sustainable future." Launching the discussion, Mr. Rolands Irklis, Auditor General of Latvia, stated, "As spending on climate change increases, so does the need for governments to improve their efforts in making this spending effective and productive for the benefit of our society."
During the event, EUROSAI members, the SAIs of Israel and the United Kingdom, and ECA shared case studies from audits conducted on climate change. The aim of these audits was to help governments maximize the performance of public spending to reach climate change targets. The experiences of presenters highlighted the complexity and challenges, as well as the benefits, of these cross-sectoral audits.
Mr. Matanyahu Englman, State Comptroller of Israel, closed the session by emphasizing the important role of SAIs in holding governments to account. "We, as SAIs, are here at the UN Climate Change Conference for the first time, and we have a clear role to assess government plans, to provide our insight and encourage governments to make appropriate changes to maximize effectiveness."
Building upon the EUROSAI-ECA panel, the INTOSAI Working Group on Environmental Auditing (WGEA) organized an event on November 8 in which INTOSAI and EUROSAI members further discussed strengthening capacities in environmental audits to support UN Sustainable Development Goal 13 (Take urgent action to combat climate change and its impacts).