EUROSAI
EUROSAI Task Force Discusses Municipal Real Estate Management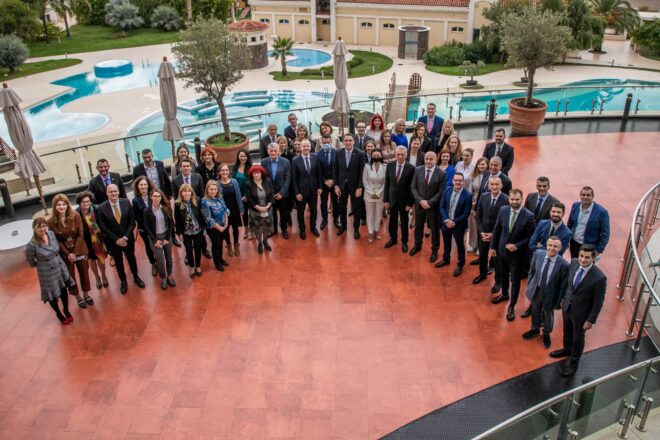 On November 3-4, 2021, members of the European Organization of Supreme Audit Institutions (EUROSAI) Task Force on Municipality Audit (TFMA) gathered in Budva, Montenegro, for its 5th Annual Meeting and Seminar on Municipal Real Estate Management. The event was attended by 80 participants, both in person and remotely, from 27 countries.
During the seminar, participants shared knowledge and experiences related to key issues affecting management of municipal real estate, which plays an important role in economic and workforce development. Expert speakers presented on a variety of topics, including the Audit Compendium prepared by the SAIs of Lithuania and Serbia. This compendium summarizes the results of audits carried out by ten members of the Task Force in the area of municipal real estate management in 2016-2021.
Of particular interest were the challenges posed by the COVID-19 pandemic, which has brought declining revenues from real estate, rising property costs, increased remote work, and distance services. In this difficult context, municipalities need to think creatively about how to refocus infrastructure priorities and use real estate in new ways to deliver public services.
The meeting also included discussions of Task Force activities and their results, the Task Force's strategic action plan, and potential new initiatives. Key areas of focus in the Task Force's work have been how municipalities have managed the pandemic and helped implement the United Nations' Sustainable Development Goals.
The EUROSAI TFMA was established in 2016 at the initiative of the National Audit Office of Lithuania, which has served as Chair since that time. Twenty-seven European SAIs are full Task Force members, and two other institutions have been granted observer status. More information about the event can be found here.