Inside INTOSAI
70th INTOSAI GB Meeting a Success in Graz, Austria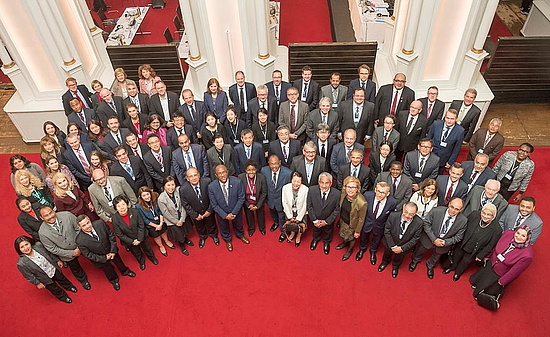 Thirty-three delegations, including more than 20 heads of Supreme Audit Institutions (SAIs), met in Graz, Austria, for the 70th International Organization of Supreme Audit Institutions (INTOSAI) Governing Board (GB) meeting November 6-7, 2017. Chaired by Dr. Harib Al Amimi, the GB made numerous important decisions, including:
Adopting main themes for INCOSAI XXIII to be held in late September 2019—Theme I: "Information Technologies for the Development of the Public Administration" under the chairmanship of the SAI of China, and Theme II: "The role of SAIs in the Achievement of the National Priorities and Goals" under the chairmanship of the Accounts Chamber of the Russian Federation.
SAI Guam was admitteed as an Affiliate Member, bringing INTOSAI membership to 194 Full Membrs, five Associate Members and one Affiliate Member.
SAI Brazil was approved as a candidate to host INCOSAI XXIV in 2022;
A Task Force was creatd to revise three INTOSAI Handbooks on Committees, GB Meetings and Congresses.
The revised Strategic Development Plan for the INTOSAI Framework of Professional Pronouncements (IFPP) 2017-2019 was approved.
SAIs of Bhutan, Costa Rica and Norway were appointed as new FIPP members.
Performance reporting dashboards will now serve as the basis for CBC, PSC and KSC future performance reports.
The creation of the INTOSAI Regions Cooperation Platform as th single point of control and cooperation for capacity building efforts.
During the breakaway discussions, participants also discussed SAI contributions in monitoring SDG implementation, as well as INTOSAI standard setting.
The 71st INTOSAI GB meeting will take place in Moscow November 15-16, 2018.