Inside INTOSAI
2018 OLACEFS General Assembly Embraces Technology, Partnerships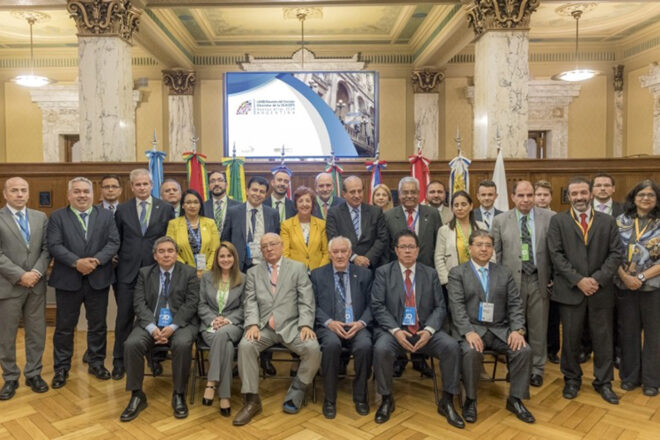 The 2018 Organization of Latin American and Caribbean Supreme Audit Institutions (OLACEFS) General Assembly was hosted by the Argentinian Supreme Audit Institution (SAI) October 9-12, 2018.
The week-long event, held in Buenos Aires, included SAIs, international cooperation agencies, and key stakeholders spanning the globe.
During the assembly's technical sessions, discussions focused on integrity in public procurement—a technical topic fully developed by SAI Chile with contributions from several OLACEFS member-SAIs. The valuable roundtable discussions resulted in the summation document, "Integrity in public procurement: Coordination and Control Mechanisms Between Procurement Systems and National Audit Institutions."
Technical session deliberations also focused on auditing public-private associations. The discussions were based on work performed by the SAIs of Cuba, Mexico and Uruguay, and included contributions from other OLACEFS members. "Superior auditing of state-owned companies and public-private associations" summarizes the outcomes associated with this technical theme.
OLACEFS also featured fruitful debates on a range of topics, including:
Developing environmental coordination audits in the region, with an assessment of SAI contributions in implementing and achieving the United Nations (UN) 2030 Agenda and Sustainable Development Goals (SDGs); and
Partnerships for innovation that included a panel of subject matter experts organized by the International Organization of Supreme Audit Institutions (INTOSAI) Development Initiative (IDI).
During the assembly, members discussed the region's work and approved important initiatives, such as electing SAI Uruguay as a new member of the OLACEFS Board of Directors; approving the 2017 financial statements; and implementing and following up on the 2017-2022 Strategic Plan.
SAI Peru, elected as the 2019-2021 OLACEFS President, plans to focus on a wide range of concepts and initiatives, including communication, cooperation, future projection, integration, sustainable development, and transparency.
The 2019 OLACEFS General Assembly will be hosted by SAI El Salvador.
Event working papers, background information and photos can be found online at:
---
The Declaration of Buenos Aires
The Buenos Aires Declaration, "The Role of Supreme Audit Institutions Entities in Response to the New Information Technology of the XXI Century," establishes regional interest and commitment to implementing new technologies throughout the oversight process.
Due to difficulties in accessing public information, citizens have continually demanded developing instruments and information systems, and audit institutions are excellent mechanisms to bridge the gap between governments and civil society.
This issue was also raised at the 2017 OLACEFS General Assembly, where members identified limitations, challenges and recommendations for moving forward.
Necessary tools to be added to SAIs' toolkits include the collection, comparison and application of databases; using satellite imagery and analyzing evidence (in real time); and strengthening information system security.
Through the Declaration of Buenos Aires, SAIs in the OLACEFS region are committed to strengthening their roles in the face of new technology.
For more details on the Declaration of Buenos Aires, use the following link: Declaration of Buenos Aires on the role SAIs in light of new, 21st century information technologies.