Feature Articles
Transforming the World Through Sustainability Efforts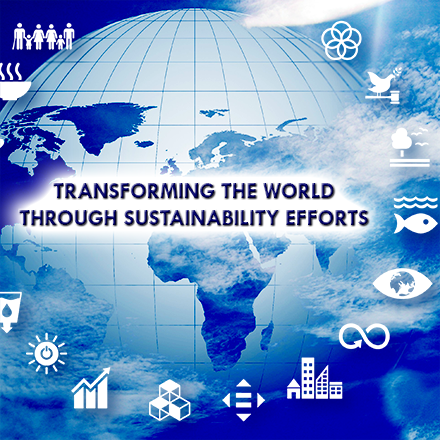 by Mr. Shourjo Chatterjee, Accountant General, SAI India
Supreme Audit Institutions (SAIs) have served citizens by ensuring accountable use of public resources for national development. Irrespective of borders, across the International Organization of Supreme Audit Institutions (INTOSAI) community, members are collaborating with international peers and counterparts to ensure value-based delivery of services to citizens.
This proven conviction in SAI capabilities is exemplified by comprehensive audit reports coupled with regular interaction between the United Nations (UN) and INTOSAI in UN/INTOSAI symposiums. Ongoing collaborative efforts led to the 66th UN General Assembly adopting the 2011 resolution on SAI Independence, which was later reinforced by the 69th UNGA Resolution that focused on promoting and fostering public administration efficiency, accountability, effectiveness and transparency by strengthening SAIs. Benefits SAIs provide have been aptly summed up within International Standard of Supreme Audit Institutions (ISSAI 12), "The Value and Benefits of Supreme Audit Institutions—Making a Difference to the Lives of Citizens."
In this context, studying the role of SAIs in implementing the Millennium Development Goals (MDGs) and Sustainable Development Goals (SDGs) is important, as these goals seek to go beyond addressing resource use and service delivery. Rather, they pertain to the much larger issue of sustaining the world for posterity, as exemplified by the 2030 Agenda for Sustainable Development.
The 17 SDGs emanating from the 2030 Agenda seek to build on successes of the MDGs, a UN campaign launched in 2002 that supported and inspired global actions to achieve eight goals by 2015.
This article seeks to summarize SAI contributions, and their importance, in serving the world through sustainability efforts and helping to achieve MDG and SDG responsibilities.
MDG Realization—SAI Services
Unlike the institutionalized cooperation and formal efforts for SAI involvement in implementing SDGs, explicit MDG efforts were comparatively limited. However, MDG implementation was marked by an increase in adopting performance audits and other niche audits that encompassed gender, environmental and social aspects.
Table 1 illustrates indicative audits corresponding to each MDG undertaken by a global SAI sample. These audit types have assisted in MDG realization. Of particular note, the INTOSAI Working Group on Environmental Auditing (WGEA) consistently contributed to MDG 7 by capitalizing on peer cooperation and support.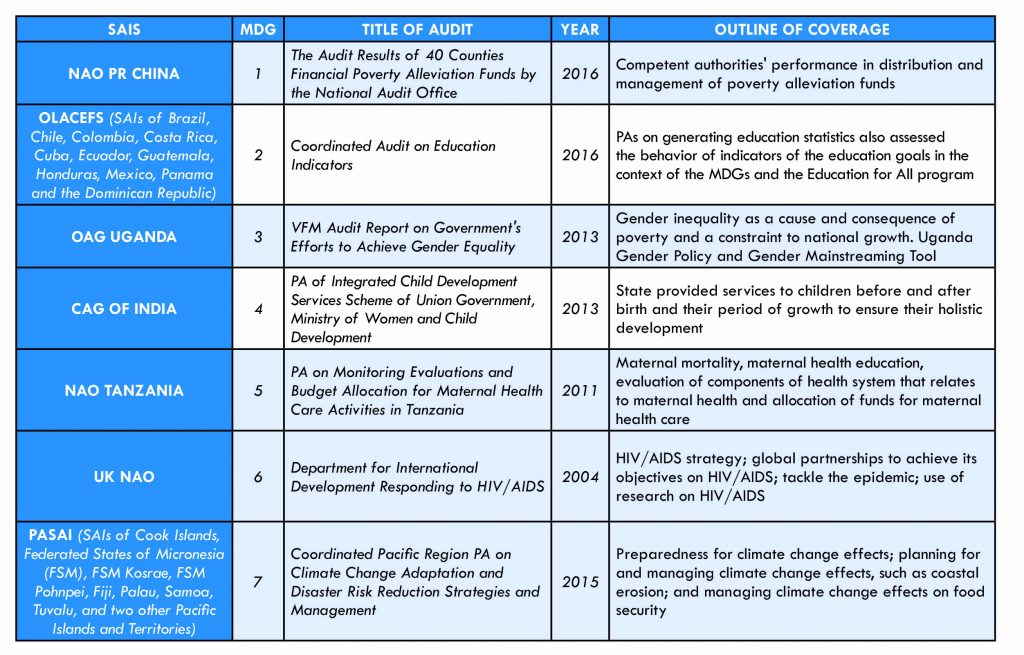 SDG Implementation—SAI Roles
The SAI role in SDG implementation was reflected in the most recent UN-INTOSAI events held in 2015 and 2017, with the 2015 symposium focusing on the UN's Post-2015 development agenda and the means SAIs have to implement sustainable development while the 2017 symposium highlighted how digitalization, open data and data mining impact SAI audit work and help enhance SAI contributions toward SDG implementation follow-up and review.
The XXII INTOSAI Congress in 2016 also employed an SDG thematic approach that addressed SAI roles in SDG implementation, paying particular attention to how INTOSAI can contribute to the UN 2030 Agenda for Sustainable Development through good governance and strengthening the fight against corruption.
UN agencies are cooperating with the INTOSAI Development Initiative (IDI) to build SAI capacity through the IDI "Auditing Sustainable Development Goals" program, and INTOSAI regional, bilateral and multilateral collaboration among SAIs has also been energized to promote capacity in reviewing and following up with national SDG implementation efforts.
According to IDI's 2017 Global SAI Stocktaking Report, 193 countries have subscribed to SDG implementation, and INTOSAI has recognized this as a crosscutting priority in its strategic plan. Fifty-six percent of SAIs indicated an intent to include themes on preparedness for, or implementation of, SDGs in subsequent audit programs.
Sustainability—Addressing SAI Challenges
SAIs have the onerous responsibility to ensure accountability in the process of transforming the world by 2030. It is important to recognize the challenges faced and how these challenges can be addressed.
Institutional Challenges: IDI's 2017 SAI Global Stocktaking Report statistics showed most SAIs have the mandates, capacity and willingness to audit SDG implementation or national preparedness for SDG implementation. Remaining SAIs must strengthen mandates and follow up on efforts by engaging with relevant stakeholders.
Capacity Challenges: SAIs need to enable the ability to address SDGs by focusing on capacity development support, knowledge sharing, peer support and training. SAIs should also develop proper performance indicators to assess and redress such challenges.
National Data Systems: IDI's 2017 SAI Global Stocktaking Report cited 30% of SAIs indicated not knowing if their governments (1) have established SDG baseline data or (2) intend to collect data and report on SDG progress. Only 21% of governments have defined baseline data to monitor and evaluate SDG implementation progress, and 24% are in the early stages of preparation. It is imperative that SAIs engage with government officials and recommend appropriate tools and techniques.
Leadership and Stakeholder Engagement: SAI leadership must lead by example, set the tone and constantly seek to engage and follow-up with stakeholders.
Sustaining Relevance: Sustaining relevance is critical. To do so, SAIs should employ relevant ISSAIs and use performance indicators to assist in evaluating work in a way that leads to continuous improvement.
Conclusion
The international community has entrusted SAIs with an important role in SDG evaluation. SAI mandates and expertise, along with experience in conducting MDG-relevant audits, will enable SAIs to better meet SDG requirements and serve humanity by transforming the world.