Autumn 2018
Are We Prepared? SAI Poland's Experience Auditing National SDG Implementation Preparedness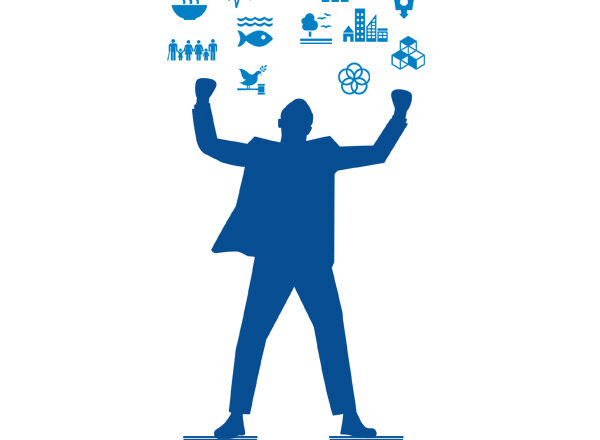 by Beata Błasiak-Nowak, Economic Advisor, and Marzena Rajczewska, Technical Advisor, Supreme Audit Office of Poland
"Transforming Our World: The 2030 Agenda for Sustainable Development" is a United Nations (UN) program of actions defining a sustainable development model at the global level. Sustainable development, a transformation process, satisfies present generation needs without diminishing future generations' development opportunities.
The Constitution of the Republic of Poland classifies sustainable development among the most important national principles and obliges the concept's national implementation. Article five of Poland's constitution calls for safeguarding the territory's independence and integrity and ensuring its citizens' freedoms, rights and security. It also demands national heritage preservation and natural environment protection pursuant to the sustainable development principles. At the same time, Article 74 requires public authorities to pursue policies aimed at ensuring the ecological security of current and future generations.
The Need for National Cooperation, Supreme Audit Institution Involvement
Poland has declared its commitment to implement the 2030 UN Agenda and the Sustainable Development Goals (SDGs), a task calling for cooperation from the entire administration and all relevant stakeholders. A new development model for Poland, outlined in the country's Strategy for Responsible Development, meets Agenda 2030 expectations and is consistent with a UN vision focused on a poverty-free world where every person has the opportunity to benefit from development. Poland's Minister of Economic Development followed by the Minister of Enterprise and Technology provide coordinating roles in SDG implementation.
The 2030 Agenda recognizes each state's implementation responsibility regionally, nationally and globally (taking into account different realities, capacities, development levels and priorities). Agenda 2030 also includes follow-up and review measures for monitoring SDG implementation progress accountability and adding value and benefits to the lives of citizens.
While the SDGs are to be implemented by the government, Supreme Audit Institutions (SAIs), within their powers and priorities, are to focus on monitoring how public authorities fulfill national SDG obligations. The SAI of Poland (NIK) is involved in examining this progress following International Standards of Supreme Audit Institutions (ISSAIs), namely ISSAI 5130: "The Role of Supreme Audit Institutions" and ISSAI 12: "The Value and Benefits of Supreme Audit Instructions–Making a Difference to the Lives of Citizens."
The NIK carried out the "Preparedness for Implementation of the 2030 Agenda Sustainable Development Goals" audit in Poland early in 2018. Performed using the international common audit framework and based on ISSAI standards and a single model and methodology established by the International Organization of Supreme Audit Institutions (INTOSAI), the NIK audited whether Poland's development model, outlined in the nation's "Strategy for Responsible Development," meets Agenda 2030 expectations and public administration's preparedness in SDG implementation.
According to the NIK's findings, effective national-level actions were initiated to (1) integrate SDGs into the national development policy, (2) build an appropriate institutional structure, and (3) prepare for SDG implementation progress monitoring.
Poland's national strategy includes objectives consistent with the SDGs. The government built partnerships with key stakeholders to co-manage development processes and create common implementation methods. Moreover, actions have been taken to select indicators to measure these efforts. The national strategy was also integrated with the national financial framework. Measures taken were in line with the whole-of-government approach and the Agenda's principle to leave no one behind.
During the audit, research identified examples of good practices applied in other countries—practices that rendered positive results—such as extending an integrated approach locally through voluntary inclusion of activities carried out by local government and undertaking measures to increase SDG public awareness.
In the audit reports, the NIK formulated several comments to audited entities where it recommended to the audited entities a continuation and intensification of undertaken actions to ensure effective and consistent SDG achievement in the longer perspective, such as:
Strengthening the socio-institutional partnership for SDG implementation to reach the widest possible range of stakeholders;
Promoting (including on ministry and public office websites) Agenda 2030 and the SDGs to different environments and social groups;
Reinforcing the adjustment of national indicators to the list of indicators adopted by the UN to facilitate measuring progress;
Conducting progress reviews on a continued, regular basis (national and local levels) to add value by maintaining society's interest in sustainable development and form the basis for recommendations on necessary actions required at various levels; and
Bolstering information activities on preferences offered for medium-sized cities losing socio-economic function to stimulate interest in planning, and applying, for support. Additional adjustments are needed for these cities (given available programs and budget funds; in accordance with reasons causing degradation danger; and offering incentives to gradually increase these cities' chances in competing for funds).
Conclusion
Poland declared its commitment to implement the global goals and presented its first SDG implementation progress report to the UN in 2018. The NIK comments are in line with the important issues raised in the most recent Ministerial Declaration, such as:
Implementation speed must be accelerated. In this context, there is a need for decisive actions to raise Agenda 2030 and SDG awareness at all levels;
Greater commitment in partnership and cooperation is essential;
The role of national reviews in SDG implementation is crucial—integrating top-level leadership, incorporating SDGs into national development plans and strategies, and involving local authorities; and
National capacity to monitor SDG implementation should be developed.
For more information on the "Preparedness for Implementation of the 2030 Agenda Sustainable Development Goals" audit, contact the NIK. The full report is also available on the INTOSAI website at http://www.intosai.org/about-us/sdgs-sais-and-regions.html.