Autumn 2018
PFAC Members Meet in Riyadh to Discuss Progress, Way Forward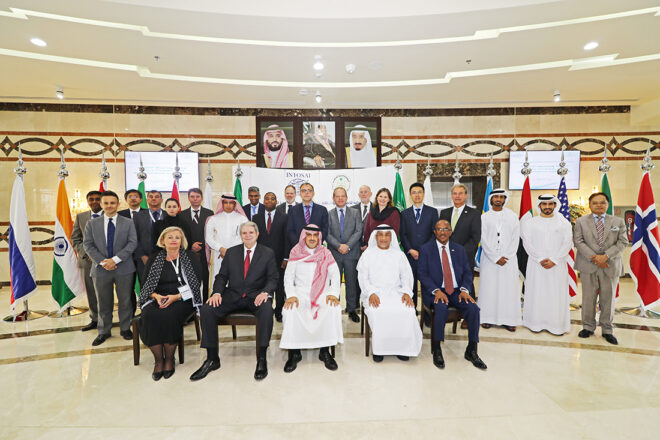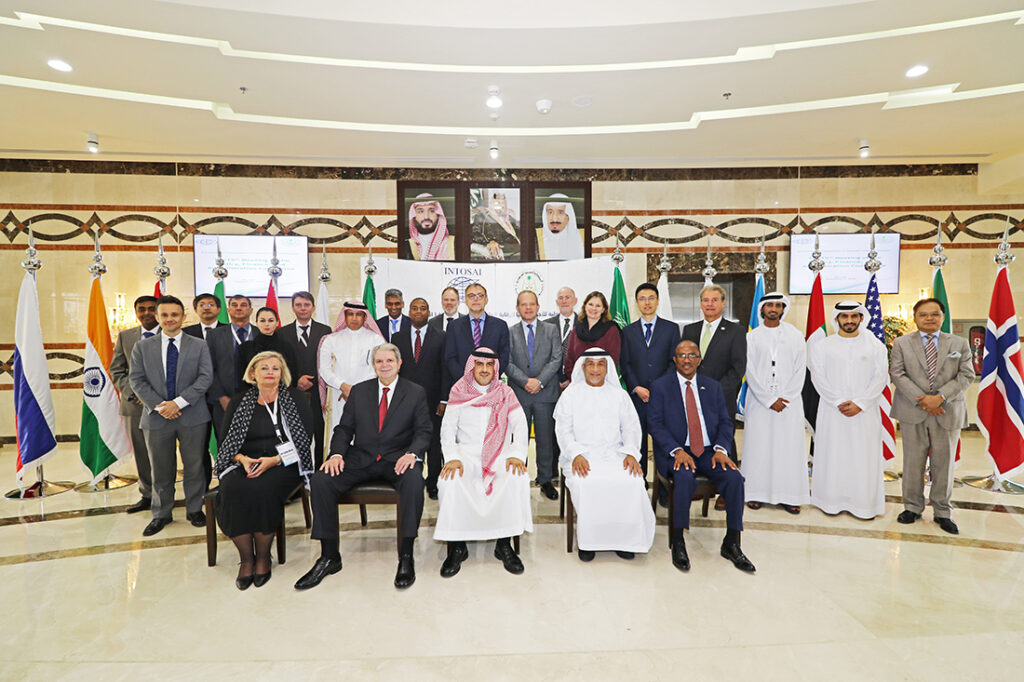 The General Auditing Bureau (GAB) of the Kingdom of Saudi Arabia hosted the International Organization of Supreme Audit Institutions' (INTOSAI) 15th Policy, Finance and Administration Committee (PFAC) meeting in Riyadh, where members came together for the committee's annual meeting.
The PFAC leads efforts under Goal 4 of INTOSAI's strategic plan and aims to organize and govern INTOSAI in ways that promote economical, efficient and effective working and governance practices and timely decision-making while maintaining due regard for regional autonomy, balance and varying models and approaches of member Supreme Audit Institutions (SAIs).
Dr. Hussam Alangari, GAB President, welcomed participants to the September 2018 meeting, which includes the Governing Board's Chair (United Arab Emirates) and First Vice-Chair (Russian Federation); INTOSAI Goal Chairs: Professional Standards Committee (Brazil), Capacity Building Committee (South Africa) and Knowledge Sharing Committee (India); General Secretariat (Austria); immediate past Chair of the Governing Board (China); Chair of the INTOSAI Development Initiative (IDI) (Norway); and the head of the SAI responsible for the International Journal of Government Auditing (IJGA) (U.S. GAO)—all of whom Dr. Alangari commended for steadfast, continued contributions.
"INTOSAI's PFAC and General Secretariat continue to monitor the implementation of INTOSAI's strategic plan and crosscutting priority initiatives," noted Dr. Alangari, who invited meeting participants to contribute to the constructive dialogue on issues facing INTOSAI and its members.
In her report, Dr. Margit Kraker, INTOSAI GS, touched on three main issues: draft INTOSAI Financial Regulations and Rules; draft INTOSAI Statutes; and INTOSAI financial matters, including 2016-2017 financial statements, actual 2018 budget performance, and the proposed budget for 2020–2022.
Mr. Victor Hart, representing the Professional Standards Committee (PSC), presented PSC progress in 2018 and elaborated on various strategic objectives and actions taken.
Mr. Hart emphasized the need to promote standards implementation and adoption and feed any problems or issues back into the standard setting process. He pointed out that INTOSAI, in its entirety, is responsible for standards adoption and that the PFAC (and its members) can contribute to fulfilling this responsibility.
Dr. Alangari asked that the PSC work with IDI to develop an operational plan to accomplish that goal.
Chairman of INTOSAI's Capacity Building Committee (CBC) and Auditor General of South Africa, Mr. Kimi Makwetu, highlighted the enhanced cooperation among all INTOSAI goal chairs.
Mr. Makwetu stressed a continued focus on crosscutting priorities, including advocating for and supporting SAI independence; sharing capacity development insights; enhancing professionalization through INTOSAI task forces and tools; and maintaining and cultivating the use of the SAI Performance Measurement Framework.
Mr. Andrew Langstich, representing the Knowledge Sharing Committee (KSC), provided a summary report on the KSC's latest meeting held in Kampala, Uganda, in August. He noted that all reporting dashboards have been updated based on progress submitted by KSC working groups.
GAB's Dr. Mohammed Alhabib provided an overview of recent PFAC activities and presented the first ever INTOSAI Performance and Accountability Report (PAR)—seeking the committee's recommendation to submit the PAR to the GB in November. Key issues for GB consideration include:
Continued emphasis on fostering SAI independence;
Continued efforts on implementing and monitoring the Sustainable Development Goals and United Nations' Agenda 2030;
INTOSAI Framework of Professional Pronouncements (IFPP) and Forum for INTOSAI Professional Pronouncements (FIPP) support; and
Recognition of the accomplishments, importance, and needs of regional INTOSAI bodies, especially regarding communication, resources, and technology.
The committee unanimously approved submitting the INTOSAI PAR for GB approval.
Dr. Al Amimi updated participants on the Supervisory Committee on Emerging Issues (SCEI), where he underscored the committee's goal to canvas INTOSAI membership (through the KSC portal) to further identify emerging issues and provide progress feedback prior to the committee's submission to the INTOSAI GB.
"All emerging issues listed in the SCEI report are very important, and they must be stressed among INTOSAI. Moreover, these issues need to be addressed at the United Nations/INTOSAI Symposium and other events as they also relate to Sustainable Development Goal (SDG) 16," remarked Dr. Kraker.
Dr. Kraker added, "Progress has to be made on emerging issues and actions taken in the future to strengthen SAI independence, as well as the fight against international corruption, including illicit financial flows and money laundering."
Mr. Dodaro expressed appreciation to Dr. Al Amimi and the SCEI for their efforts, particularly the attention paid to technology's impact on audit professionals. He suggested INTOSAI could work closely with existing working groups to address emerging issues within their purview and also suggested creating a new INTOSAI working group to focus on emerging issues related to Science and Technology and potential implications for audit professionals.
Updates on IDI and the INTOSAI Journal of Government Auditing closed out the PFAC meeting.
IDI's Mr. Martin Aldcroft discussed the organization's strategic priorities, including strategic shifts to increase impact and sustainability.
As the IJGA President, Mr. James-Christian Blockwood, Managing Director of GAO's Strategic Planning and External Liaison Office, briefed PFAC members on the Journal's latest modernization plans and initiatives, including the launch of the redesigned website, which provides a more responsive and engaging user experience. The committee acknowledged the editorial team for publishing valuable information related to auditing throughout the world.
In his closing remarks, Dr. Alangari, thanked all attendees for participating in the PFAC meeting in Riyadh, and he opened the door for future communications by inviting members to provide feedback on any issue.