News in Brief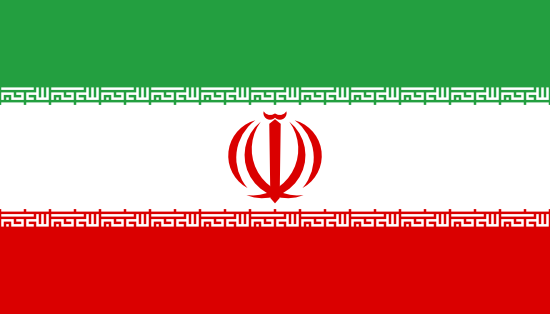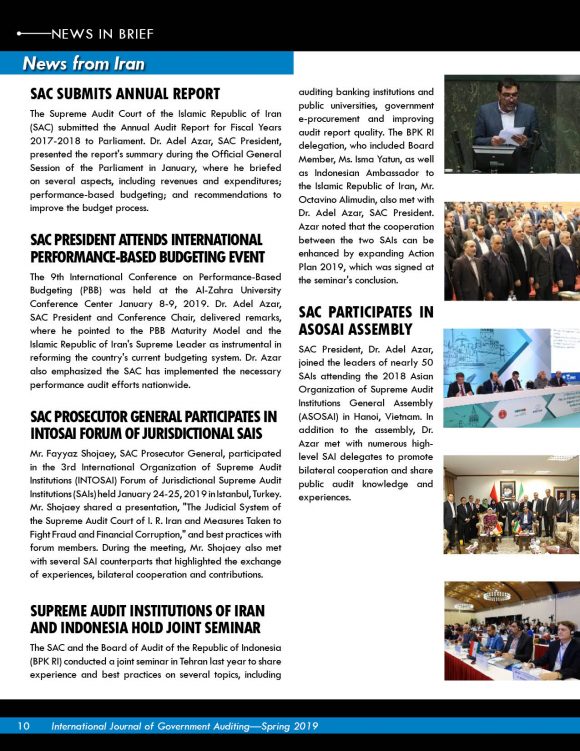 SAC Submits Annual Report
The Supreme Audit Court of the Islamic Republic of Iran (SAC) submitted the Annual Audit Report for Fiscal Years 2017-2018 to Parliament. Dr. Adel Azar, SAC President, presented the report's summary during the Official General Session of the Parliament in January, where he briefed on several aspects, including revenues and expenditures; performance-based budgeting; and recommendations to improve the budget process.
---
SAC President Attends International Performance-Based Budgeting Event
The 9th International Conference on Performance-Based Budgeting (PBB) was held at the Al-Zahra University Conference Center January 8-9, 2019. Dr. Adel Azar, SAC President and Conference Chair, delivered remarks, where he pointed to the PBB Maturity Model and the Islamic Republic of Iran's Supreme Leader as instrumental in reforming the country's current budgeting system. Dr. Azar also emphasized the SAC has implemented the necessary performance audit efforts nationwide.
---
SAC Prosecutor General Participates in INTOSAI Forum of Jurisdictional SAIs
Mr. Fayyaz Shojaey, SAC Prosecutor General, participated in the 3rd International Organization of Supreme Audit Institutions (INTOSAI) Forum of Jurisdictional Supreme Audit Institutions (SAIs) held January 24-25, 2019 in Istanbul, Turkey. Mr. Shojaey shared a presentation, "The Judicial System of the Supreme Audit Court of I. R. Iran and Measures Taken to Fight Fraud and Financial Corruption," and best practices with forum members. During the meeting, Mr. Shojaey also met with several SAI counterparts that highlighted the exchange of experiences, bilateral cooperation and contributions.
---
Supreme Audit Institutions of Iran and Indonesia Hold Joint Seminar
The SAC and the Board of Audit of the Republic of Indonesia (BPK RI) conducted a joint seminar in Tehran last year to share experience and best practices on several topics, including auditing banking institutions and public universities, government e-procurement and improving audit report quality. The BPK RI delegation, who included Board Member, Ms. Isma Yatun, as well as Indonesian Ambassador to the Islamic Republic of Iran, Mr. Octavino Alimudin, also met with Dr. Adel Azar, SAC President. Azar noted that the cooperation between the two SAIs can be enhanced by expanding Action Plan 2019, which was signed at the seminar's conclusion.
---
SAC Participates in ASOSAI Assembly
SAC President, Dr. Adel Azar, joined the leaders of nearly 50 SAIs attending the 2018 Asian Organization of Supreme Audit Institutions General Assembly (ASOSAI) in Hanoi, Vietnam. In addition to the assembly, Dr. Azar met with numerous high-level SAI delegates to promote bilateral cooperation and share public audit knowledge and experiences.