Autumn 2017
Japan's BOA Hosts Auditing Public Construction Works Event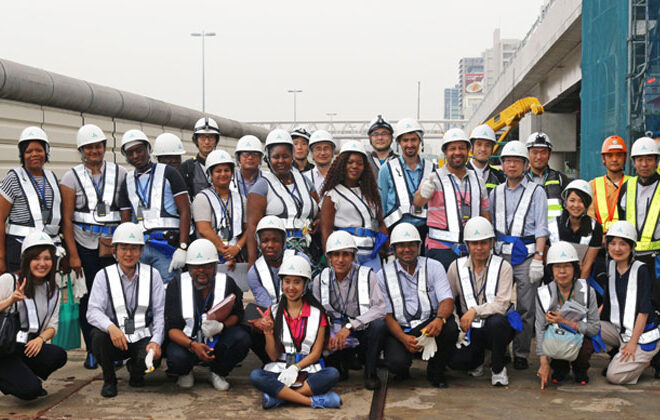 The Board of Audit of Japan (BOA), in collaboration with Japan International Cooperation Agency (JICA), hosted a seminar on "Government Audit in Public Construction Works" as part of Japan's official development assistance programs. The annual event, held June 18-July 8, 2017, at JICA's training center in Tokyo, Japan, and BOA's training facility in Gunma Prefecture, Japan, is designed to share experiences and best practices with Supreme Audit Institutions (SAIs) of developing countries. This year, 16 auditors from nine SAIs—Botswana, Fiji, Iraq, Laos, Liberia, Malawi, Mauritius, Nepal and Zimbabwe—participated.
The importance of this seminar has become even greater than ever before, particularly as it contributes to increasing SAI capacity through assisting respective governments in realizing the Sustainable Development Goals (SDGs).
By auditing public construction projects with the objective of ensuring infrastructure quality, SAIs can contribute to SDG 9, which is dedicated to "Build resilient infrastructure, promote inclusive and sustainable industrialization and foster innovation." Auditing public construction also aids in reducing corruption (SDG 16), particularly given corruption's impact on public procurement (including construction projects), which is more widely felt as globalization advances.
The BOA has traditionally attached a high level of importance to auditing public construction works, for a significant amount of Japan's national budget is dedicated to infrastructure investment during the post-war rapid economic growth period, as well as building resilient infrastructure in response to natural disasters (earthquakes, heavy rainfall and flooding) that have caused serious damage to citizens' lives and property. Accordingly, the BOA has established rigorous objectives when auditing public construction works to include verifying accounting aspects; reducing construction costs; reviewing project effects; and ensuring high-quality infrastructure. Auditing several project aspects, including design and structure, in addition to accounting, cost estimation and usage after construction completion helps achieve those objectives. It is this experience, these objectives and methodologies that the BOA imparts to seminar participants.
This year's seminar focused primarily on the methodology for examining infrastructure quality, including closely examining if (1) construction is executed as designed; (2) slipshod work is not practiced; and (3) construction design is appropriate to ensure required safety measures are followed. The BOA also shared audit reports that illustrated construction defects. These defects resulted in an insufficient level of safety, which led auditees to take appropriate measures. Attendees acknowledged the usefulness of such reports, noting that they can raise construction quality and reduce infrastructure lifecycle costs simultaneously.
It wasn't all classroom participation, as participants received hands-on experience using construction inspection equipment to locate improper works (structure models displayed at BOA's training center). They also visited actual construction sites, including a renewal construction site of Metropolitan Expressway Route 1 in Tokyo (pictured above).
At the seminar's conclusion, participants delivered presentations on how they can apply the knowledge and experiences gained to future construction audits upon returning to their SAIs. For further information, please contact liaison@jbaudit.go.jp.