Autumn 2018
INTOSAI Collaborates, Shares with Key Partners at High Level Political Forum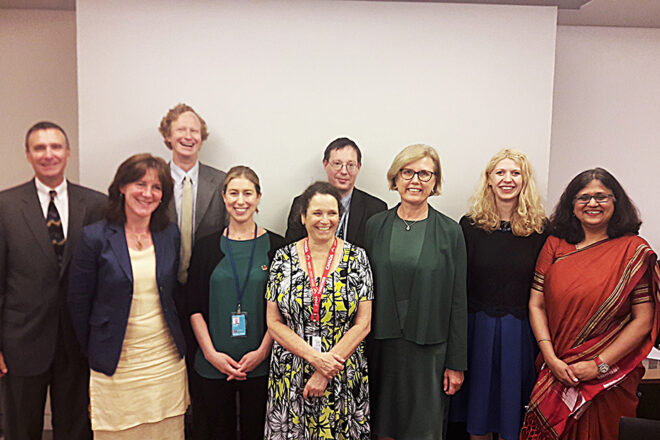 The International Organization of Supreme Audit Institutions (INTOSAI) General Secretariat teamed up with the United Nations (UN) and permanent representatives of Austria and Canada to the UN to coordinate a round table discussion as part of the High-Level Political Forum (HLPF) on sustainable development.
Dr. Margit Kraker, INTOSAI's Secretary General, along with high-ranking delegates of Supreme Audit Institutions (SAIs), the UN, ambassadors, as well as civil society and national parliament representatives, participated in an engaging discussion that focused on achievements in national government preparedness to implement the Sustainable Development Goals (SDGs). The event provided vital insights into various SAI approaches in auditing SDG implementation.
Dr. Kraker opened the SAI Leadership and Stakeholder meeting, which was jointly organized by the INTOSAI Development Initiative (IDI) and the UN. The meeting fostered an exchange of SAI knowledge and best practices against the backdrop of the IDI and INTOSAI Knowledge Sharing Committee program, "Auditing SDGs," that supports more than 70 SAIs around the world in carrying out SDG-related performance audits. Participating SAIs presented experiences and elaborated on diverse approaches while accounting for policy coherence and inclusion, capacity building opportunities and various stakeholder expectations.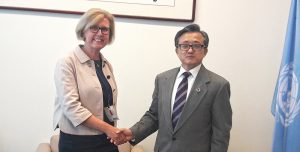 Shaped by an exchange on further deepening the already existing strong relations between the UN and INTOSAI, Dr. Kraker and the UN Under Secretary General for Economic and Social Affairs, Mr. Liu Zhenmin, discussed next year's HLPF. With the next HLPF focusing on SDG 16, target 16.6 is of particular importance to SAIs to "develop effective, accountable and transparent institutions at all levels."