INCOSAI XXIV
The Role of Supreme Audit Institutions in Emergency Situations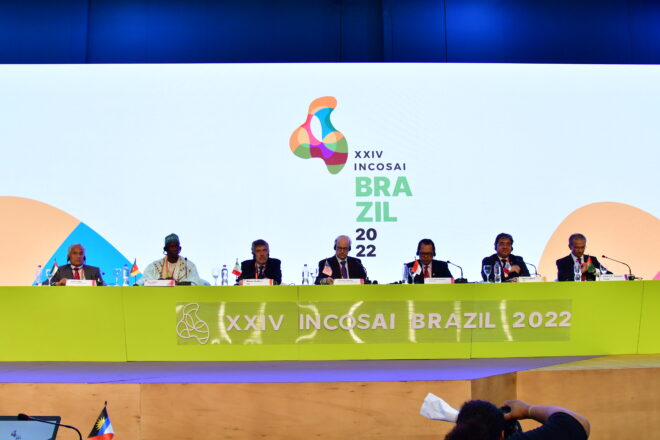 Understanding and adapting the role of Supreme Audit Institutions (SAIs) in emergency situations became vitally important for SAIs as they sought to maintain continuity of operations and fulfill their mandates during the COVID-19 pandemic. SAIs faced unique and unprecedented circumstances with some shifting seamlessly to remote work, and others facing challenges with access to information technology, protective equipment, and other tools and methods to facilitate continuity of operations. The pandemic also created demand for real time auditing, new audit methodologies, and appropriate information technology. SAIs adapted and addressed these challenges to become more resilient during crises, and delivered government oversight to meet increased needs. SAIs came together at INCOSAI to reflect on the roles that SAIs play in emergency situations, share best practices and lessons learned, and prepare for and respond to future emergencies.
Comptroller General of the United States Highlights the Importance of Foresight for Emergency Situations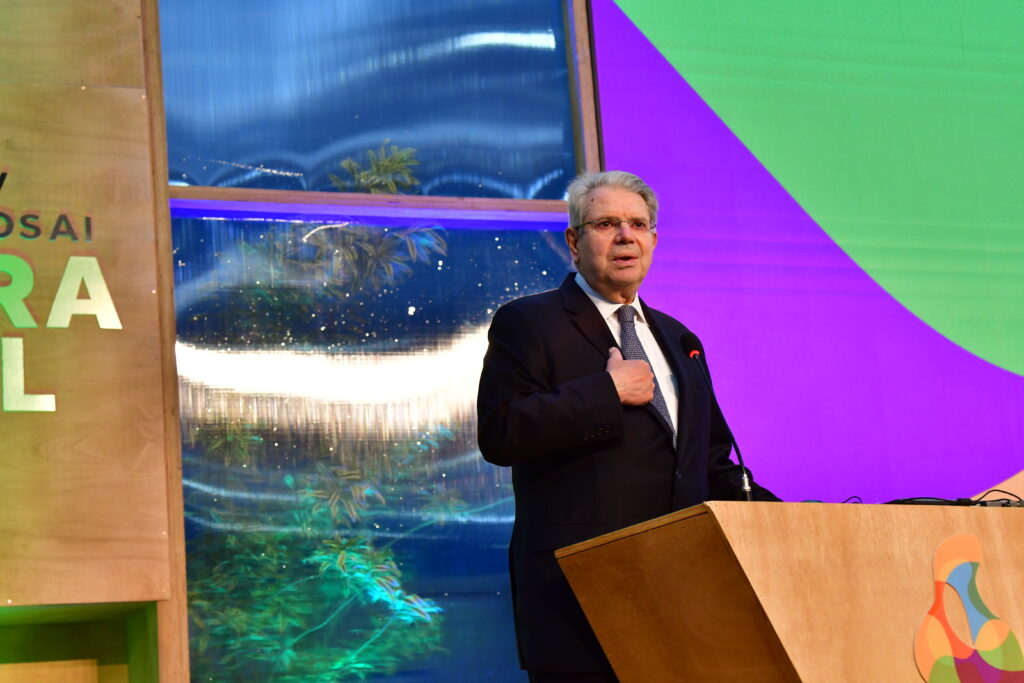 The Comptroller General of the United States and head of the U.S. Government Accountability Office, Gene L. Dodaro, introduced the theme 1 paper by emphasizing the active role SAIs can play in anticipating and responding to emergencies through the use of foresight and appropriate accountability mechanisms.
Mr. Dodaro said, "In all of these activities, it has always been clear to me that one of the greatest responsibilities we have as national audit offices is to warn our policy makers to be prepared for emergencies before they occur…to convince people to take action before there's a crisis."
He also discussed the importance of the US Government Accountability Office's high risk list in identifying government programs that are vulnerable to fraud, waste, abuse, mismanagement, or that are in need fundamental transformation. He cited forward-looking examples of topics and programs that he has placed on GAO's high-risk list, including cybersecurity, the fiscal implications of climate change, and public health emergencies.
In closing, he cited many positive examples of the roles INTOSAI and SAIs have played in emergency situations, including (1) the creation of the INTOSAI Working Group on Financial Modernization and Regulatory Reform in response to the last global financial crisis, and (2) the INTOSAI COVID-19 Grant Program. Over the course of the program, INTOSAI awarded 52 SAIs, or more than one-quarter of INTOSAI membership, a total of about €600,000. These SAIs represented all seven INTOSAI regions.
Panelists Discuss the Growing Number of Emergency Situations, and the SAI Response
Following the Mr. Dodaro's remarks, Stephen Sanford, U.S. GAO's Managing Director of Strategic Planning and External Liaison, moderated a panel discussion with Vice Chair of INCOSAI, Auditor General Nancy Gathungu of SAI Kenya; Secretary General of OLACEFS, Comptroller General Jorge Bermudez Soto of SAI Chile, and; Comptroller and Auditor General Gareth Davies of the United Kingdom National Audit Office (UK NAO). The panelists provided shared their experiences and insights about the role of SAIs in a variety of emergency situations including the COVID-19 pandemic, climate-related disasters, drought, earthquakes, insect invasions, and wildfires. In doing so, they reinforced themes from Mr. Dodaro's remarks about the importance of foresight and accountability in emergency preparedness and response while adding diverse and broadly applicable perspectives from their experiences.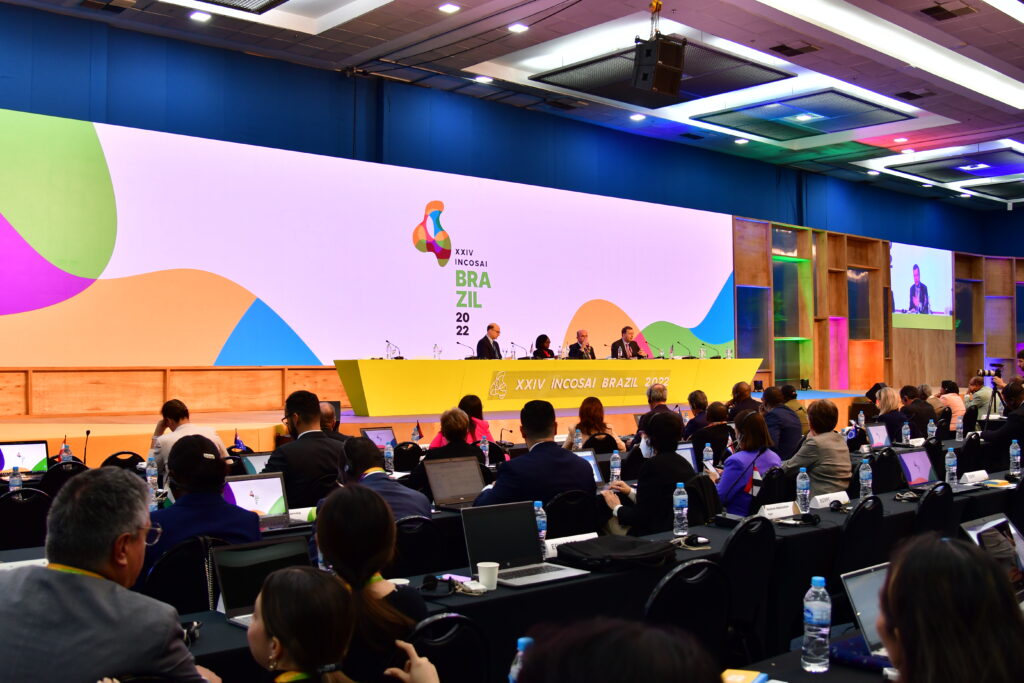 Auditor General Gathungu said the INTOSAI community will forge a common approach to audits that provide assurance on the transparency and accountability in the use of public resources and add value to the ecosystem of managing emergency situations. She highlighted the impacts of emergency situations on the Kenyan people, including threats to food security, decreased crop production, threatened wildlife populations, and the corresponding affect on Kenya's tourism sector, which employs thousands of people.
She said that SAIs must ask themselves tough questions about their roles, mandates and responsibilities in advising governments on the distribution of resources in emergency situations, and how to ensure the proper execution of the of emergency response.
Auditor General Bermudez Soto emphasized the effects of climate change on emergency situations, and how it is quickly changing the demands on government services. He said the context and situations constantly change—forest fires and tornadoes in Chile have increased in frequency. As a result, he said governments and SAIs must have agile and prompt responses to emergency situations. He said governments, individuals, and SAIs need to be better prepared in effective planning, implementation of plans, and of foresight for disaster risk reduction.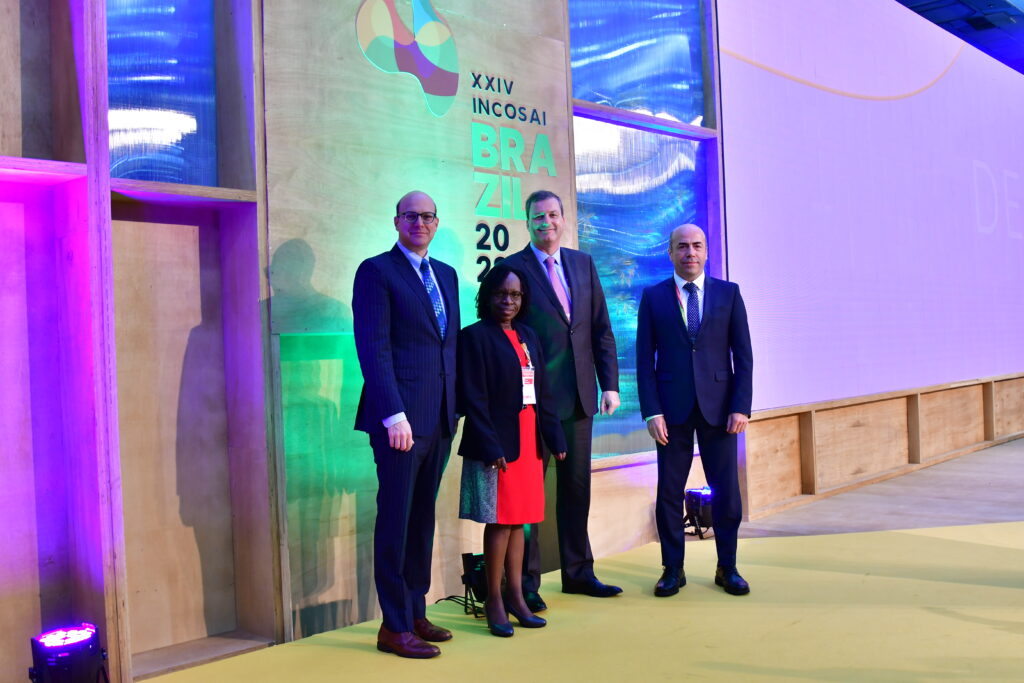 Comptroller and Auditor General Gareth Davies highlighted the UK NAO's actions to increase transparency, accountability, and learning and improvement during the COVID-19 pandemic. The UK NAO established a public cost tracker for the United Kingdom's COVID-19 response, quickly published 36 major reports to parliament on different parts of the COVID-19 pandemic, and shared information across SAIs by co-chairing the EUROSAI working group on pandemic response. He noted that emergency risks interact with one another— for example, the COVID-19 pandemic has combined with other risk factors and contributed to new energy and cost of living crises. He emphasized how SAIs have a responsibility to assess government resilience to emergency risks, and ensure that governments prioritize long term benefits rather than focus solely on short term benefits.
The panelists said that developing a compendium of SAI responses to the pandemic could inform development of guidelines, methodologies, and a unified response for future emergencies, and improve SAI resilience overall.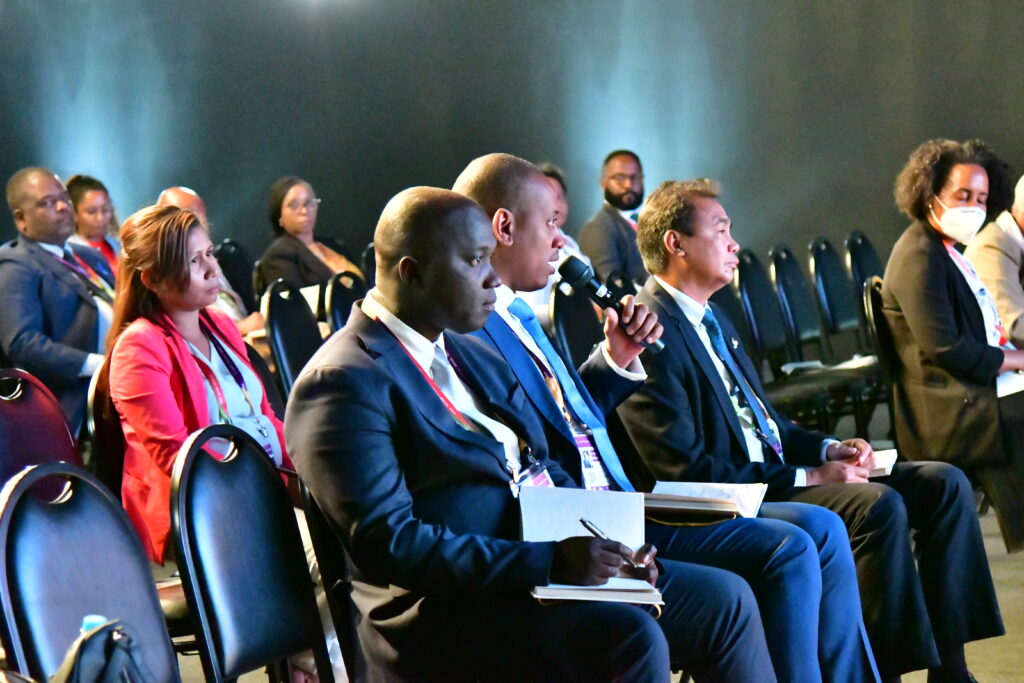 Reflections from Breakout Discussions in Official INTOSAI Languages
Following highly successful breakout discussions in different INTOSAI languages, the final day's plenary sessions focused on key reflections and lessons learned. The rapporteurs reported key insights from each language group discussion, summarized below:
SAIs Can Evaluate Governments' Strategic and Risk Management Plans to Ensure Emergency Preparedness

SAI audits of strategic and risk management plans can improve government operation continuity that leads to better prepared, robust, and resilient institutions during emergencies.
SAIs can ensure that governments have strategic and risk management plans and measures in place, and can help governments understand the weaknesses and strengths of the planned response before emergencies occur. Strategic plans should be transparent, cooperative, widely available, based on foresight and preparedness, and have adequate funding for implementation.
SAIs can assess and understand the coordination, communication, and responsibility delegation across government entities and all levels of government in responding to emergency situations. Understanding the whole-of-government approach and having clear stakeholder responsibilities in emergency response will result in a better understanding of risks.
SAIs can also consider approaching emergency situation auditing through a coordinated audit framework. By assessing government preparedness on a number of interconnected issues, SAIs can provide a greater understanding of the risks.
SAIs can make recommendations, if warranted, to address any weaknesses found in SAI audits of strategic and risk management plans, and should try to improve upon them by building the capacity of the government.
SAIs Can Conduct Real-Time Auditing To Provide Oversight of Government Emergency Relief Efforts in Quickly Changing Situations

SAIs can be proactive in monitoring government responses when emergency situations occur to ensure that vulnerable people are assisted in a timely and effective manner. SAIs can employ new real-time, or "flash" auditing methods to respond and provide oversight more quickly to governments' actions in emergency situations.
SAIs can provide real time oversight of government entities' response to emergency situations. By providing simultaneous evaluation, SAIs can gain a comprehensive picture of the government's handling of the pandemic. SAIs can also share lessons learned with governments to reduce further risks from the emergency situation, and ensure ethical use of public resources.
SAIs can scale up their capacities for real time auditing through more training on agile audit methodologies, as more SAIs anticipate employing more real time audits in the future.
SAIs Can to Boost Capacity to Ensure Continuity of Operations and Agility to Audit in Emergency Situations

SAIs can develop guidance for auditing disaster management, ensure their technology infrastructure can support remote work, and adequately train staff on new methodologies to increase workforce agility, and to conduct meaningful audit work in light of significant challenges stemming from emergency situations.
Guidance on Disaster Management Auditing

SAIs can adopt or adapt emergency related standards as guidance on disaster management auditing. The Professional Standards Committee and the Knowledge Sharing Committee consolidated existing International Standards of Supreme Audit Institutions (ISSAIs) on audit of disaster-related aid to an INTOSAI Guidance. SAIs can use new methodologies and criteria to assess government performance in tackling emergency situations.
Technology Preparedness

SAIs can address increased demand for agile, remote and virtual auditing during emergency situations with a suitable technology infrastructure. With greater access to equipment, resources, and technologies, SAIs' audit staff can properly execute their jobs and collect comprehensive and quality evidence in a remote environment.
SAIs can further build their capacity by developing technology preparedness plans. SAIs can implement infrastructure technology systems for their work, digitize audit processes and procedures, and prepare for remote auditing.
SAIs can use technology to encourage active citizen participation in disaster management, and can provide information on government risks and expenditures. By expanding technological capabilities, SAIs can be more agile, engage in more collaboration, and allow for alternative working methods.
Inter-INTOSAI cooperation has helped SAIs bridge technology gaps by making technology infrastructure acquisition accessible. To provide technology support to the INTOSAI community during the COVID-19 pandemic, the General Secretariat, PFAC and IDI established the "INTOSAI COVID-19 Continuity of Operations Grant Program" and distributed 700,000 EUR from INTOSAI accumulated funds through the INTOSAI-Donor Cooperation Tier 1 mechanism to assist more than 50 SAIs around the world with acquiring technology and protective equipment. Additionally, the PFAC Chair established the Saudi Fund for SAI Improved Performance with about $2 million in funds for grants to assist SAIs in the Asian Organization of Supreme Audit Institutions (ASOSAI) region with information technology and related training. The PFAC Chair has provided an additional fund of $1 million available to SAIs in all regions that will be awarded based on proposals submitted to IDI.
Capacity Building and Training

SAIs can train auditors to employ new guidance, methodologies, and technology to audit in emergency situations. The INTOSAI community noted the importance of having continued professional training and capacity building widely available to SAIs in different languages.
With greater demand for digitization of processes, SAIs can train auditors to employ data science and data analytics in audit. SAIs said that with adopting new methodologies to leverage different technologies, remote training and encouragement of staff to use different electronic platforms is key.
SAIs and INTOSAI can establish an international list of experts and professionals who could provide advice for capacity building and training, similar to SAI Mexico's disaster management database of expertise. SAIs said social media training can help SAIs utilize social media platforms to disseminate information about disasters.
Additionally, SAIs can ensure that their own workforce is resilient in emergency situations by assessing and approving plans for staffing structures and levels, with a clear line-management structure in the event of a disaster.
Continuous Exchange of Information on Best Practices

SAIs can continue to share knowledge and best practices through the INTOSAI community in the context of disaster response. Although SAIs may operate in different social and economic circumstances, challenges faced during an emergency situation can be similar. SAIs said having a continuously updated database of lessons learned from operating in and responding to emergency situations could be beneficial for the future.
SAIs can strengthen partnerships with relevant external stakeholders, such as academia, civil society, international organizations, and non-governmental organizations. Sharing information, building relationships, and expanding capacity can help SAIs better respond to emergency situations. For example, SAIs can prepare for future crises by strengthening partnerships with the United Nations, the United Nations Disaster Assessment and Coordination (UNDAC), and the donor community.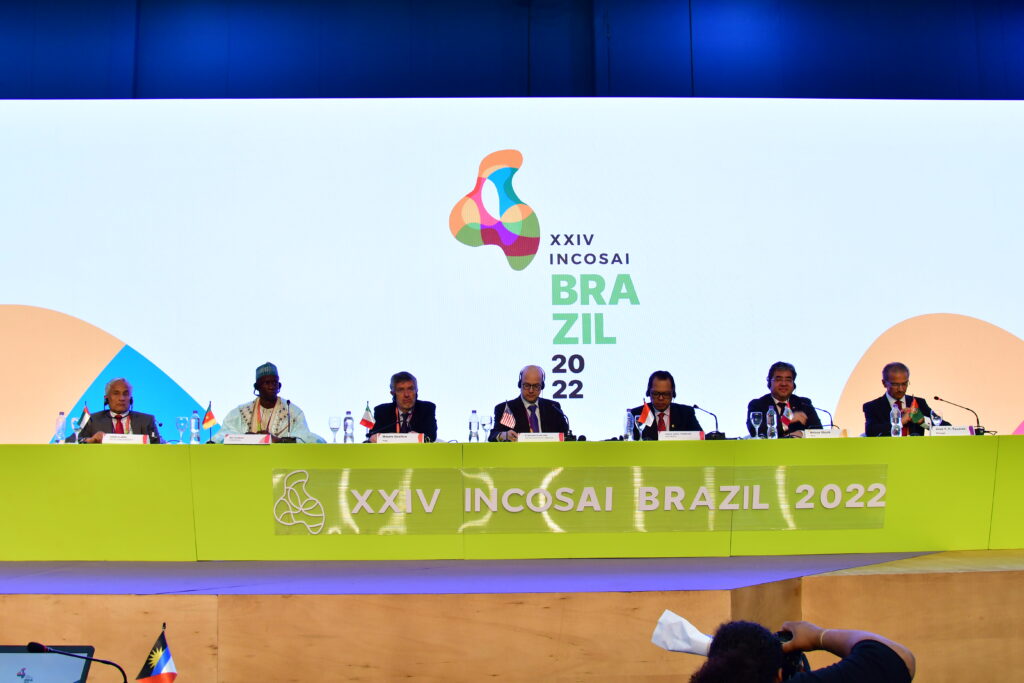 Conclusion
SAIs play an important role in emergency situations by providing oversight of government response, and ensuring efficient and effective delivery of support to its citizens during times of crises. With the growing number of emergencies, including those related to public health and climate change, SAI foresight into understanding emergency risks, and providing real-time audits and oversight is key to navigating critical times. SAIs can evaluate their governments' strategic and emergency risk management plans and response, as well as their own ability to be able to operate in an agile manner. Sharing experiences and best practices helps the INTOSAI community and SAIs alike to serve the role of ensuring efficiency and effectiveness of government resources in times of crises. Given that the number of emergency situations will only increase, SAIs can continuously reflect upon lessons learned and share knowledge to enhance their capacities for future crises response.