Inside INTOSAI
IDI Releases Video on Gender Equality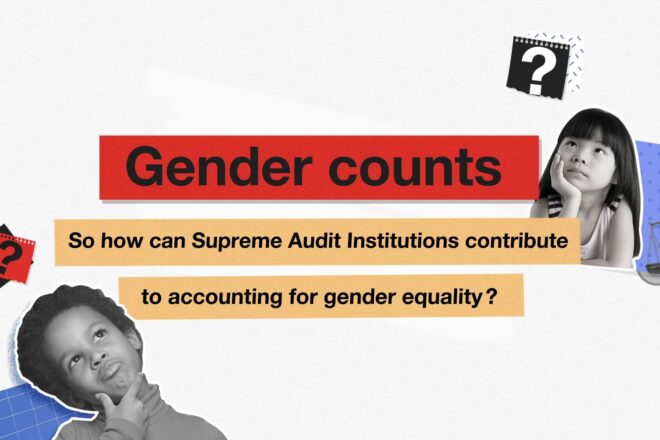 On November 25, 2021—the International Day for the Elimination of Violence against Women—the INTOSAI Development Initiative (IDI) released "Gender counts: So how can Supreme Audit Institutions contribute to accounting for gender equality?" The aim of this video is to raise awareness of how SAIs can contribute to gender equality through their audit functions and as organizations. The video's release was part of an IDI social media initiative within the framework of the Global 16 Days Campaign to eliminate gender-based violence.
The video underscores that gender equality and an understanding of intersectionality—how people may be affected by multiple types of discrimination and disadvantages based on overlapping identities and experiences like gender, race, and class—are the necessary foundations of a peaceful, prosperous, and sustainable world.
According to the video, SAIs can play a vital role in tackling gender inequality by:
Addressing gender inequalities and breaking glass ceilings within their own organizations.
Applying a gender lens to their audit work. This includes auditing governments' commitments to gender equality, such as the United Nations' Sustainable Development Goals (SDGs)—especially SDG 5 (Achieve gender equality and empower all women and girls).
Collaborating with other agencies and civil society organizations to hold governments to account, amplify the impact of audits, and communicate and advocate for gender equality.
A key issue related to SDG 5 that the video highlights is gender-based violence (GBV), which 1 in 3 women around the world experience. GBV comes with immense personal, social, and economic costs. SAIs can contribute to combating GBV by, for example, assessing how governments have addressed this issue in their resource planning and spending.
The video presents inspiring examples of SAIs that are contributing to gender equality—including from Costa Rica, Uganda, and Fiji—and emphasizes IDI's commitment to supporting SAIs in these efforts.