Autumn 2021
EUROSAI COVID-19 Project Group Builds Resilience through Collaboration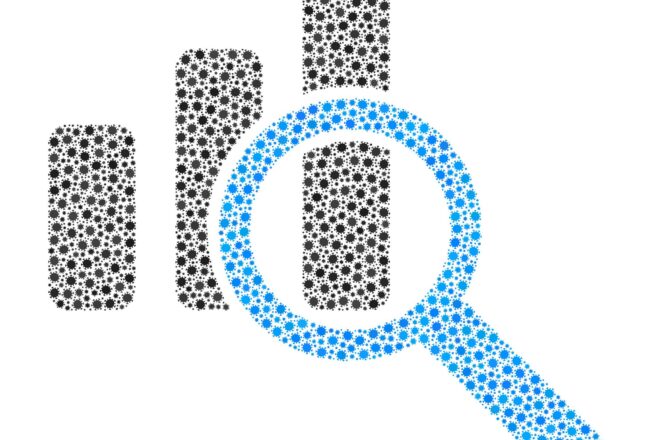 With governments around the world expected to incur COVID-19-related costs for several years to come, the pandemic will continue to impact audit work, and it will be essential for SAIs to continue to collaborate with one another.
by Andy Fisher, Head of International Relations, United Kingdom National Audit Office
Introduction
When the COVID-19 pandemic struck, the United Kingdom's National Audit Office (UK NAO) was able to effectively carry on its work by quickly pivoting to remote auditing and using technology to build relationships within the agency and around the world. Indeed, many auditors continued to conduct audits and publish audit reports without ever meeting their teams or clients in person.
Aspects of UK NAO's operations were not the only things to change. The Supreme Audit Institution's (SAI) portfolio of work also shifted significantly. The pandemic has had a devastating effect on many people's lives, and organizations across the public sector have responded with very high levels of unplanned spending disbursed at speed; according to the national cost tracker, the UK's estimated lifetime cost of government spending on the pandemic now exceeds £370 billion. UK NAO faced questions from parliament about the effectiveness of this response.
Because the pandemic was a global event, UK NAO quickly realized the vital importance of using existing networks and connections in the INTOSAI community as a means of sharing and comparing knowledge, experiences, and approaches. Accordingly, UK NAO reached out to colleagues within the European Organization of SAIs (EUROSAI) and around the world, and found many other SAIs asking the same questions.
Setting Up the Project Group
In June 2020, UK NAO joined 33 other EUROSAI members to form the EUROSAI COVID-19 Project Group, with UK NAO as Chair and SAI Finland as Vice Chair. The group's aim was to share information and create a "safe space" for members to consider the challenges of auditing governments' responses to the pandemic. After establishing its principles and goals, the group set up 12 workstreams focusing on priorities identified by members. Two key areas of interest were measures governments have taken to mitigate the pandemic's impact on health and social care and to protect the economy.
Sharing Knowledge and Experiences
Members have supported each other not only by sharing published work, but also by sharing information, methods, and advice to help teams plan and deliver COVID-19 audits. While the challenges facing the group's members differ in some ways, there has still been a tangible benefit in learning from one another.
Project group members have connected with one another in a variety of ways. The Benchmarking Information Exchange Project (BIEP), hosted on the EUROSAI website, has been an efficient and effective mechanism for sharing reference materials, presentations, surveys and responses, and reports on a variety of topics. So far, project group members have shared 83 documents in BIEP.
The group has also held 20 online knowledge-sharing events, including roundtables attended by heads of SAIs. In addition, one workstream successfully piloted a "peer assist" format, in which one SAI interviews another SAI about a specific area of its COVID response, with other interested SAIs participating and asking questions via live chat.
The project group is committed to sharing the knowledge gleaned from its members with the broader accountability community. One of its workstreams is dedicated to engaging with external stakeholders, including INTOSAI bodies like the INTOSAI Development Initiative (IDI), INTOSAI Supervisory Committee on Emerging Issues (SCEI), INTOSAI Donor Cooperation, and regional organizations, as well as other groups like the European Union Commission and Organization for Economic Cooperation and Development (OECD).
Individual member SAIs are also sharing the project group's insights through INTOSAI events and joint efforts. For example, over the last year, UK NAO chaired a well-attended session of the 25th United Nations/INTOSAI Symposium, which focused on lessons SAIs have learned from the pandemic, and participated in the U.S. Comptroller General's Discussion Group on COVID-19 Lessons Learned.
By working collaboratively, the project group has enhanced the quality of all members' work related to COVID-19. The figure below shows the full range and breadth of the group's work. A progress report with more details can be found on the EUROSAI website.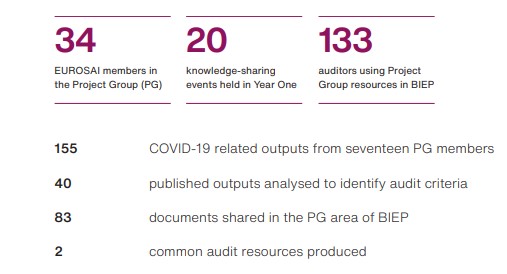 Looking Ahead
The project group is currently in the process of agreeing on workstreams to support the expected ongoing COVID-19 audit work and to gather lessons learned from the pandemic. Among other themes, the group is likely to cover the economic recovery; the pressure on public finances; inequalities across populations exposed and exacerbated by COVID-19; and the importance of resilient provision of public services. The group's ultimate objective is to incorporate members' knowledge and experiences into a high-level framework that SAIs can use in auditing the response to future emergencies.
The EUROSAI COVID-19 Project Group has achieved quite a bit, but there is more to be done. With governments around the world expected to incur COVID-19-related costs for several years to come, the pandemic will continue to impact audit work, and it will be essential for SAIs to continue to collaborate with one another. Through its ongoing efforts, the group hopes to help strengthen the resilience of public sector entities in responding to the current crisis and to future challenges.