EUROSAI
EUROSAI Audit Methodology Experts Unite To Discuss Common Concerns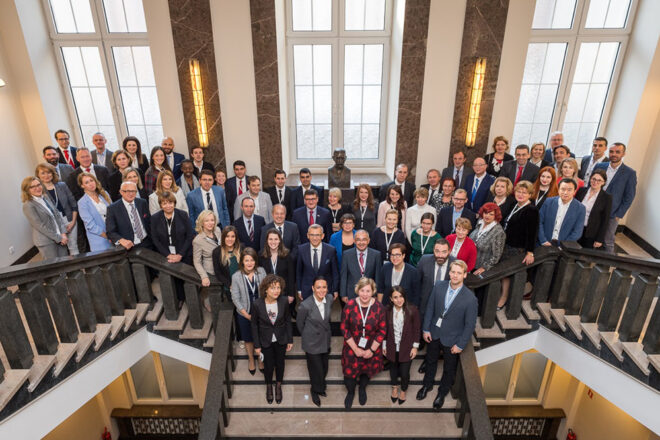 "This meeting aims to help SAI experts create connections within EUROSAI and develop ideas that expand activities in these areas. I hope this is just the beginning of a broader initiative, and that, in the following months and years to come, we will continue exchanging experiences, identifying challenges and inspiring positive change," emphasized Krzysztof Kwiatkowski, President of Poland's Supreme Audit Institution (SAI).
Audit methodology experts from nearly 30 European Organizations of Supreme Audit Institutions (EUROSAI) SAIs gathered in Warsaw, Poland, late last year to attend the region's inaugural Audit Methodology meeting. Some 60 delegates participated in the two-day event hosted by SAI Poland to discuss issues related to Quality Assurance (QA), stakeholder communication and audit planning—three areas vitally important to SAI operations.
Kwiatkowski noted that the event also underlined analyzing EUROSAI member needs in terms of institutional capacity development.
Introductory thematic presentations sparked group dialogue on the potential risks (challenges) and anticipated needs (expectations)—each discussion resulting in a list outlining current hurdles and future requirements.
Quality Assurance
Oft-cited risks included insufficient distinction between QA and Quality Control (QC) processes; extensive process formalization that may reduce audit process flexibility and effectiveness; and staff difficulty in accepting QA process outcomes.
Common expectations delegates noted included raising awareness; resource provisioning; proper Information Technology (IT) development and timely use to support, enhance and monitor the QA process.
Stakeholder Communication
Identified risks included the time gap between performing an audit and publishing the report, which disrupts expected communication impact; auditors lacking awareness of the SAI's communication obligations; and journalists (who may not be well-versed in audit speak) publishing superficial presentations that can negatively affect a SAI's reputation.
Developing communication strategies, practical training on communicating audit findings, and a need for infographics templates for reporting were the primary expectations reported by participants.
Audit Planning—Strategic and Operational
Strategically, prominent risks included insufficient public-sector knowledge and problems related to the length of time from topic adoption in annual work plans to the actual audit. Operational planning risks comprise limited resources and planning issues.
Delegates suggested clear explanations and criteria in defining strategic planning; ensuring data reliability; and establishing a connection between QA, strategic planning and communication on the strategic level. Operationally, providing a clear link between the organizational strategy and planning was identified as a principal need as were IT tool availability and a flexible organizational structure.
Access the full story, photos and video interviews with key participants at https://www.nik.gov.pl/en/news/the-first-meeting-of-the-european-audit-methodology-experts.html.