News in Brief
ECA Celebrates 40 Years of Public EU Auditing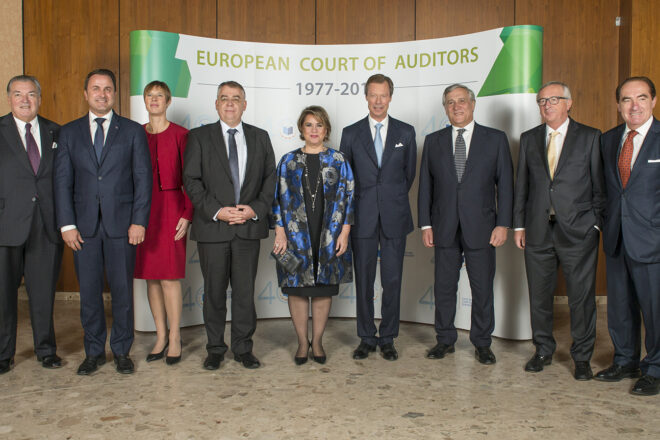 The European Court of Auditors (ECA) marked its 40th anniversary with an official ceremony in Luxembourg on October 12, 2017.
The ceremony, held in the presence of Their Royal Highnesses the Grand Duke and Grand Duchess of Luxembourg, included a number of national government authorities, as well as representatives from European Union (EU) and Member State institutions, ambassadors, current and former ECA Members and heads of supreme audit institutions.
ECA President, Mr. Klaus-Heiner Lehne, opened the ceremony, which also included speeches by Ms. Kersti Kaljulaid, President of Estonia and former ECA Member; Mr. Antonio Tajani, President of the European Parliament; and Mr. Jean-Claude Juncker, President of the European Commission; all of whom highlighted varying perspectives on continuing developments in Europe, historical elements related to the ECA's creation and work, the ECA's contribution to improving financial management in the EU, the challenges and aspirations the ECA faces and how it can maintain its relevance for the EU and its citizens.
Follow the ECA on Twitter for the latest news and information at @EUauditors.
ABOUT THE ECA
The ECA, headquartered in Luxembourg, was established by the Treaty of Brussels of July 22,1975. The ECA began work in October 1977 and took its place as a fully-fledged European institution November 1, 1993, with the entry into force of the Maastricht Treaty. Today, the ECA has 28 Members and nearly 900 professional and administrative staff from all EU Member States.