Autumn 2018
Bulgarian NAO Hosts Conference, Analyzes Crucial Organic Foods Sector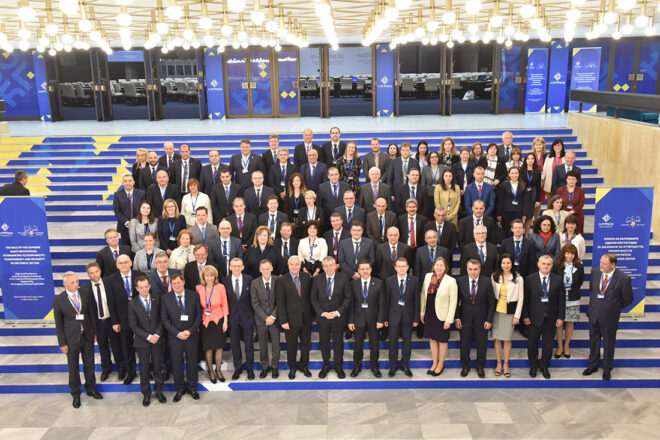 Bulgarian NAO Hosts Conference on Enhancing Accountability, Transparency and Integrity in the Public Sector
Under the Bulgarian Presidency of the Council of the European Union, the BNAO organized a high-level conference on "The Role of the Supreme Audit Institutions (SAIs) in Enhancing Accountability, Transparency and Integrity in the Public Sector."
The conference included delegates from 26 European SAIs, as well as the European Court of Auditors (ECA). Participants shared experiences and leading practices in implementing principles of good governance in the public sector with a focus on improving the lives of citizens and justifying citizens' trust.
The conference was divided into four thematic panels: (1) institutional independence as a key factor for SAI effectiveness; (2) on the road to value-driven audits; (3) administrative capacity modernization of SAIs and communicating with stakeholders; and (4) increasing the trust of the citizens. The panels provided delegates with a discussion forum on SAIs as model organizations, good practices, achievements and challenges faced.
BNAO Analyzes Crucial Organic Foods Sector
In recent years, striving to lead a healthy life and interest in organic foods has constantly increased. In 2017, the Bulgarian National Audit Office (BNAO) conducted an audit on the development, supervision and control of organic food and products.
Biological production, a joint system for agricultural management and food manufacture, has a dual public role: ensuring a specific market exists to meet consumer demand for organic products and contributing to environmental protection, animal welfare and rural area development.
The audit's primary goal was to present an independent, objective assessment to the legislative and executive branches and provide recommendations toward improving this contemporary, crucial sector.
The audit analyzed organic production for issuing and withdrawing biological production control licenses. Specifically, the audit assessed:
Supervisory effectiveness of control-process staff;
Regulations governing organic food in trade markets, fast-food chains and website retailers; and
Communication effectiveness between the Ministry of Agriculture and Food, the Bulgarian Agency for Food Safety and control staff in cases of identified irregularities and violations.
Using standard and specific methods to collect and analyze data, such as the secret client method, the BNAO identified an organic product currently on the Bulgarian trade market bearing a code number belonging to an inspector with a withdrawn license. Immediate action has been taken to fully remove the product. This is just one example that illustrates ineffective consumer protection in the organic foods production area, a problem due, primarily, from a lack in legislation.
Nonexistent legislative measures have also led to the transfer of risk management to consumers who purchase organic food in fast food chains and online.
The audit also found that people are not well-acquainted with organic food labeling requirements and are generally unaware of how to recognize these labels.
In an effort to energize transparency and stakeholder engagement, the BNAO implemented an information campaign to communicate the audit results and educate society on national labeling requirements.
New Horizons, Challenges—BNAO 2018-2022 Strategy
The BNAO adopted its 2018– 2022 Development Strategy. Based on best international practices along with the INTOSAI Development Initiative's (IDI) "Strategic Planning" and "SAI Capacity Building Needs Assessment" guides, the BNAO identified operational aspects requiring additional efforts for compatibility with international auditing standards, as well as best governance and organizational practices.
Through the year 2022, the BNAO has established 16 strategic goals that have been grouped into three priority areas:
Conducting independent, effective and efficient public sector audits;
Building an effective human resource management system to secure qualified and well-motivated employees with the highest degree of integrity; and
Recognizing the BNAO as an institution that leads by example, contributes to public sector good governance and accountability and meets all stakeholders' expectations.
The strategic objectives address such issues as updating and introducing adequate procedures and tools in all audits; building an internal quality control system; adequately publishing audit reports in a clear and comprehensive language consistent with stakeholder needs; increasing active participation in international audit community initiatives; improving cooperation with the Parliament and other audit report users; maintaining an institutional culture that is conducive to employee professional capacity development while also encouraging personal contributions to the organization.
For more information, contact press@bulnao.gevernment.bg or visit the BNAO website www.bulnao.government.bg.