News in Brief
Algerian Court of Accounts Continues Contributions to Good Governance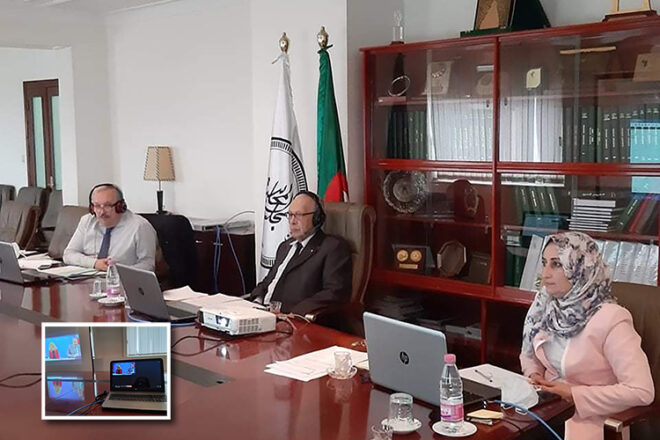 COA ADOPTS FINANCIAL REGULATION DRAFT LAW REPORT
The Algerian Court of Accounts (COA) Programs and Reports Committee met in October 2020 under the chairmanship of the COA President, Mr. Abdelkader Benmarouf. During the meeting, the Evaluation Report on the 2018 Financial Regulation Preliminary Draft Law was adopted.
---
COA CONTRIBUTES TO NUMEROUS HIGH-LEVEL EVENTS, INTERNATIONAL WEBINARS
A COA delegation chaired by Mr. Abdelkader Benmarouf, COA President, contributed to numerous high-level events, including the International Organization of Supreme Audit Institutions (INTOSAI) 74th Governing Board meeting and the Arab Organization of Supreme Audit Institutions 61st Executive Council meeting.
The COA also contributed to the:
Extraordinary Meeting of the African Organization of Supreme Audit Institutions (AFROSAI) Governing Board in November 2020. Dialogue highlighted challenges posed by the pandemic in organizing the next General Assembly and included an update from the region's task force responsible for revising statutes and developing Strategic Plan 2021-2026.
Event highlighting "Civil Society: A Key Partner in the Fight Against Corruption," held by the Algerian national body dedicated to preventing and fighting corruption. The event highlighted civil society's role in fighting corruption, promoting transparency, and enhancing good governance in consideration of national laws, the new draft constitution and regional and international conventions. Representatives from various public and private institutions, including teacher-researchers, students and journalists, attended.
COA delegates joined the INTOSAI Supervisory Committee on Emerging Issues webinars focusing on Supreme Audit Institution (SAI) openness and inclusiveness in emergency conditions and INTOSAI's online transition hosted by the Accounts Chamber of the Russian Federation in September and October 2020 and participated in a series of regional webinars dedicated to the Sharaka SDG3 parallel audit hosted by the Netherlands Court of Audit in September and November 2020 that emphasized communications and stakeholder relations.
---
COA HOSTED VIRTUAL WORKSHOP ON EVALUATING PUBLIC POLICIES
In collaboration with ARABOSAI, the COA hosted a virtual workshop on the "Evaluation of Public Policies: INTOSAI Guidance (GUID) 9020" in December 2020. The workshop, designed to strengthen SAI organizational and professional capacities, incorporated engaging presentations and robust discussions on various aspects of public policy evaluation in accordance with GUID 9020, including methods, tools and implementation phases.