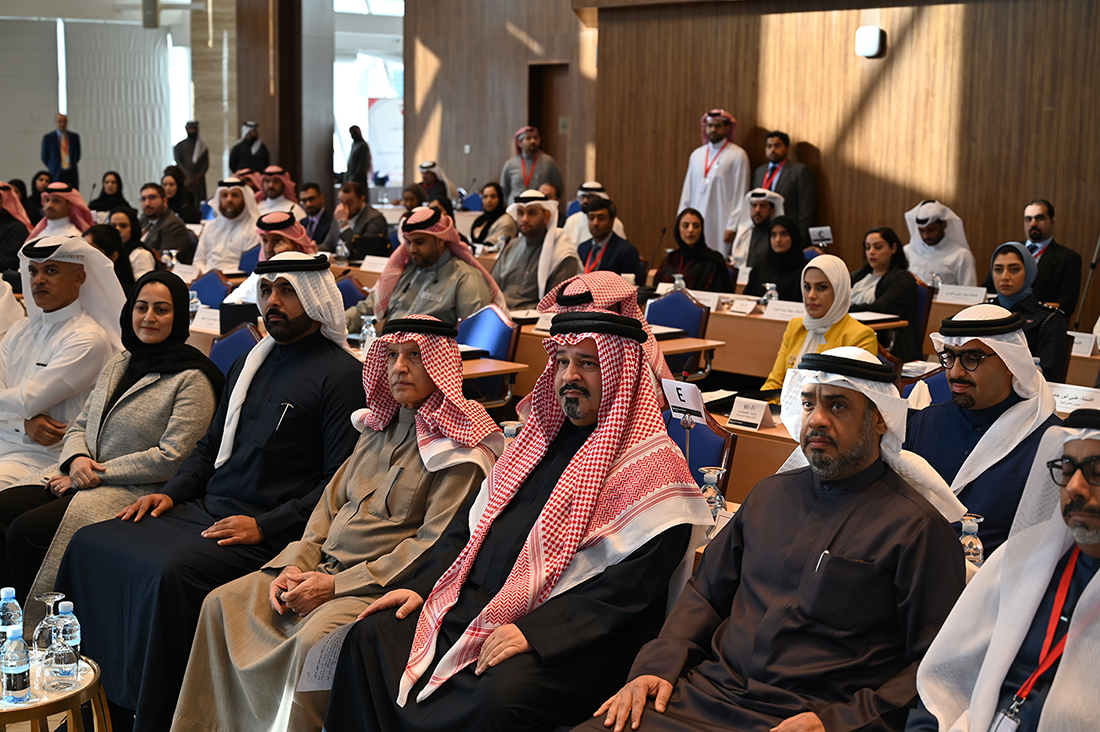 NAO Hosts Seminar on Importance of Internal Audit
The National Audit Office (NAO) of the Kingdom of Bahrain organized a seminar on the importance of internal audit. The two-day seminar, attended by more than 150 employees from 55 government agencies, including NAO instructors and experts from the University of Bahrain, Bahrain Institute for Banking and Financial Studies, Deloitte and Touche, Ernst and Young, PricewaterhouseCoopers (PwC) and Klynveld Peat Marwick Goerdeler (KPMG), focused on international standards, important developments and latest practices. The event also highlighted NAO work procedures and processes, including the legal framework guaranteeing NAO's independence as a Supreme Audit Institution (SAI), as well as its audit mandate, objectives and methodology for preparing and issuing reports.
Participants discussed the role of corporate governance in protecting public funds; whether non-audit services affect auditor independence and audit quality; and importance of international auditing standards, particularly referencing International Organization of Supreme Audit Institutions (INTOSAI) guidance. Key seminar sessions concentrated on internal audit—its critical role in adding value; improving organizational efficiency and effectiveness; and contribution to risk management. Delegates also deliberated the auditor's role in personal data protection, common fraud cases, and auditing disruptive technology risks.
NAO Auditor General, Shaikh Ahmed bin Mohammed Al Khalifa, noted the symposium's ability to create awareness of internal audit and its role in protecting public funds along with strengthening the partnership between NAO and government agencies to promote an integrated approach to auditing.
---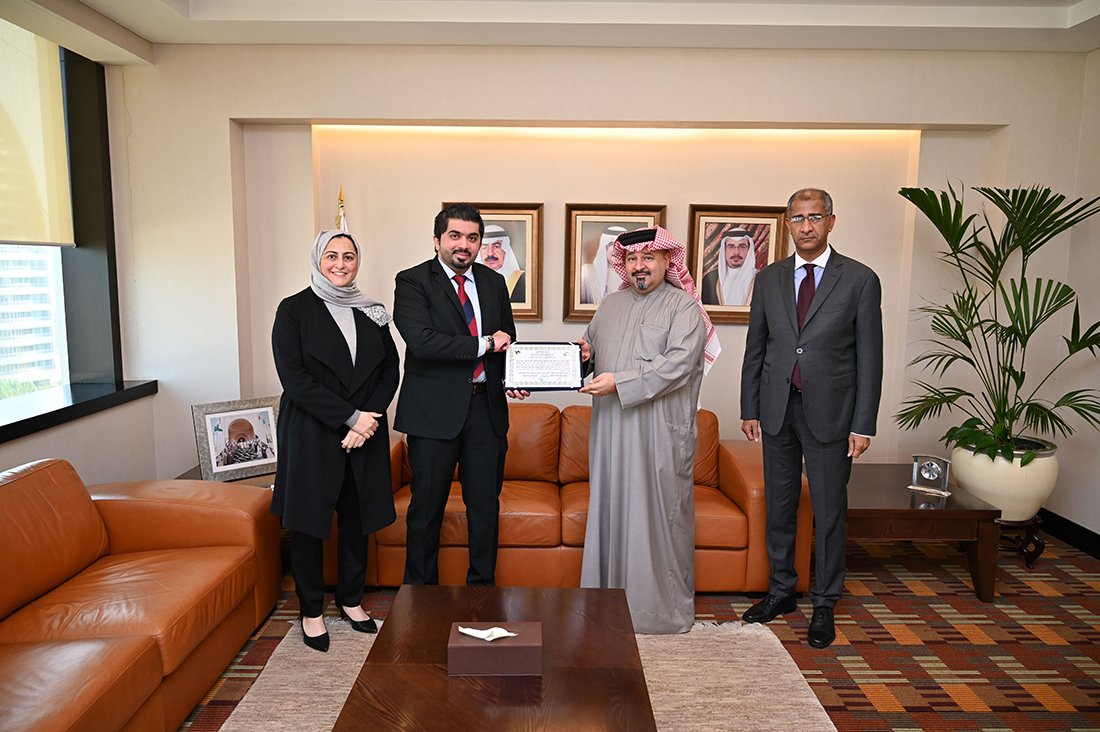 Staff Earns Award in Regional Research Competition
Abdulrahman Mohamed Abdulla Husain (pictured second from left), Senior Auditor at Bahrain's NAO, earned third place honors in the 12th Arab Organization of Supreme Audit Institutions (ARABOSAI) Scientific Research Competition for his scientific research on "Developing Audit Work and Achieving Added Value." Researching the topic while balancing professional and personal commitments was difficult; however, Abdulrahman considered the competition an opportunity to develop research skills while successfully representing the NAO.
Honored to personally receive the award from NAO's Auditor General, H.E. Shaikh Ahmed bin Mohammed Al Khalifa (pictured third from left), Abdulrahman noted, "Taking part in the competition expanded my knowledge and skills in conducting scientific research. I highly recommend this experience."
---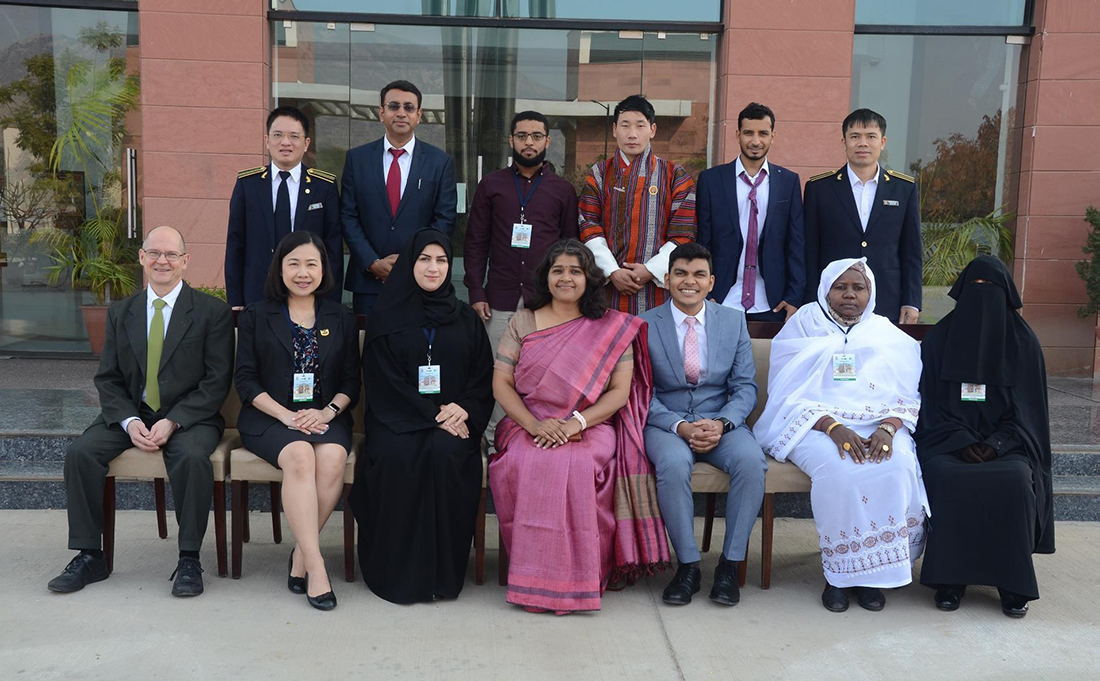 NAO Contributes to Sustainability
Fakhriya Sarhan, NAO Bahrain Performance Audit Supervisor, participated in a workshop on "Sustainable Development: The Concept and Audit" in Jaipur, India. The workshop, organized by the INTOSAI Working Group on Environmental Auditing, provided an excellent platform for participants to exchange knowledge on auditing Sustainable Development Goal (SDG) issues and presented opportunities to engage with field experts; learn about basic concepts; and share best international practices. The event also included a field visit to Barefoot College in Tilonia, India, providing inspiration on meeting present needs while securing future resource availability.
Recognizing the importance of Agenda 2030, the SDGs and their incorporation into INTOSAI Strategic Plan 2017-2022, NAO workshop participation adds to organizational efforts in cultivating sustainable development capacity.
---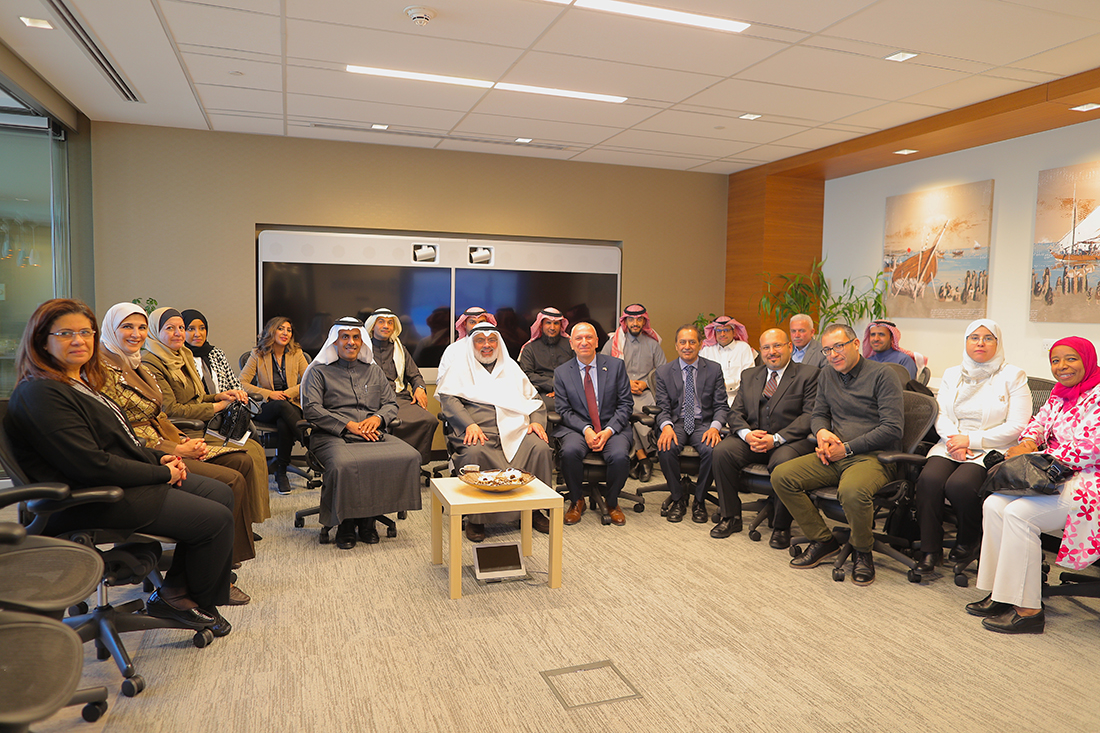 SAI PMF Workshop Helps NAO Develop Skills, Experiences
Aysha Adam, NAO Bahrain Head of Financial Resources, participated in the February 2020 SAI Performance Measurement Framework (PMF) workshop hosted by the State Audit Bureau of Kuwait. In cooperation with the World Bank, the workshop aimed to understand SAI PMF—the evaluation process and how SAIs and stakeholders can use performance measurement reports. Training sessions focused on examining experiences and developing skills in applying SAI PMF principles in planning, implementing and reporting.