News in Brief
UAE SAI Fights Corruption, Celebrates ASA Anniversary, Builds Regional Ties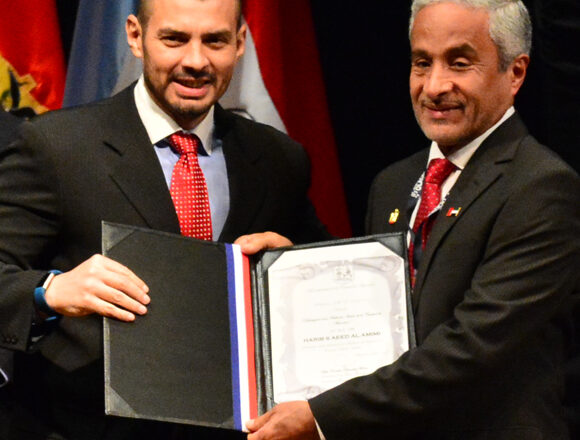 The United Arab Emirates (UAE) State Audit Institution (SAI) participated in the 8th United Nations Office on Drugs and Crime (UNODC) session of the Open-ended Intergovernmental Working Group on Prevention of Corruption held in Vienna, Austria, in August 2017.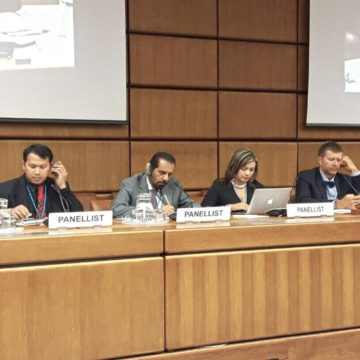 Raising awareness about corruption and working toward discovering solutions to prevent it are prominent discussions worldwide and are in keeping with provisions set forth through the United Nations Convention Against Corruption (UNCAC), the central authority on preventing corruption, which the UAE SAI chairs.
The UAE official delegation, formed by decree from Dr. Harib Al Amimi, SAI President and International Organization of Supreme Audit Institutions (INTOSAI) Governing Board Chairman, included Mr. Mohamed Rashid Al Zaabi, SAI Undersecretary (who chaired the state delegation during the meeting); Mr. Hassan Mohamed Al Hammadi, Chief Prosecutor of Public Funds in the Abu Dhabi Judicial Department; Mr. Saud Abdulla Mosa, Legal Auditor, SAI UAE; and Dr. Ahmed bin Nasr Al Zaabi, International Organizations Affairs Officer, Permanent Mission of the UAE.
The event included robust discussions on preventing corruption and highlighted endeavors undertaken through educational and criminal justice institutions.
UAE's efforts include a steadfast campaign to raise awareness about corruption, its causes and ways it can be reduced. Mr. Al Zaabi, in his presentation to participants, underscored ongoing collaboration that includes a SAI-driven awareness plan designed to educate students at schools and universities. He noted that this initiative is based on the SAI's interest in developing measures to prevent corruption, as well as the belief that cooperation with all sectors of society are important, particularly educational institutions.
Awareness programs have already been launched throughout the UAE, including the "SAI Competencies in Public Fund Control and Anti-Corruption," which targets students dedicated to law, business and economics.
Dr. Al Amimi stressed the importance that concerted efforts bring to ending corruption in all its forms. He also emphasized educational institutions are essential to anti-corruption awareness system success, as they play a fundamental role in promoting integrity, transparency and responsibility among students.
Protecting public funds and preserving state property are additional elements considered in the fight against corruption, and Dr. Al Amimi pointed out that these aspects are national responsibilities for all. Educating and informing citizens on corruption prevention and the significant role Supreme Audit Institutions have in this endeavor help ensure legitimate, effective use of public funding, and, of equal importance, create a culture of value, compliance and responsibility.
UAE STATE AUDIT INSTITUTION CELEBRATES ASA 75th ANNIVERSARY
Dr. Harib Al Amimi, President of the State Audit Institution (SAI) of the United Arab Emirates (UAE) and Chairman of the International Organization of Supreme Audit Institutions (INTOSAI) Governing Board, led the SAI UAE delegation as they participated in Egypt's Accountability State Authority (ASA) Diamond Jubilee celebration honoring ASA's 75th anniversary. Dr. Al Amimi congratulated the ASA on reaching this milestone and conveyed, "This important event sheds light on the significant role and contribution of ASA to develop government sector performance and ensure transparency and prevent corruption."
BUILDING REGIONAL TIES AT THE OLACEFS GENERAL ASSEMBLY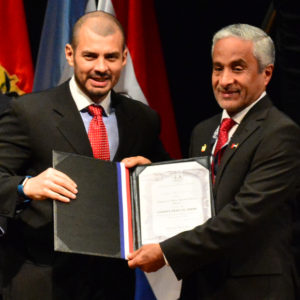 The United Arab Emirates (UAE) State Audit Institution (SAI) participated in the XXVII Organization of Latin American and Caribbean Supreme Audit Institutions (OLACEFS) General Assembly in Asunción, Paraguay, where they strengthened relations and shared knowledge and experiences in various audit fields and capacity building initiatives.
The agenda included robust discussions and presentations on auditing Sustainable Development Goal (SDG) implementation, which, as Chair of INTOSAI, the UAE SAI finds relevant as they lead an international coalition to establish a professional framework designed to review and report on goal implementation compliance. During the event's opening ceremony, the Mayor of Asunción honored Dr. Harib Al Amimi with the key to the city recognizing his role and efforts since assuming the INTOSAI presidency at INCOSAI XXII in Abu Dhabi in December 2016.