Inside INTOSAI
UAE Hosts 67th INTOSAI Governing Board Meeting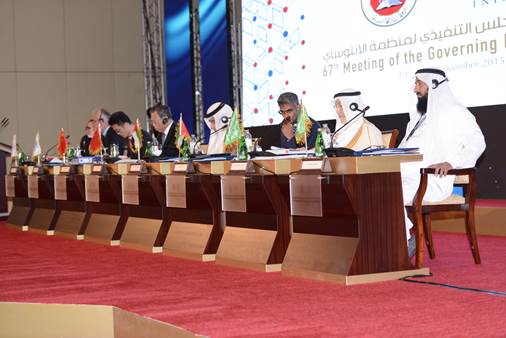 Dr. Harib Al Amimi, President of State Audit Institution and First Vice-Chairman of the INTOSAI Governing Board, opened the 67th INTOSAI Governing Board meeting held at Emirates Palace in Abu Dhabi, United Arab Emirates (UAE), November 9-11, 2015.
Dr. Al Amimi delivered an opening speech welcoming the heads of Supreme Audit Institutions (SAIs), governing board members, U.S. representatives and international organization representatives who participated in the meeting. He emphasized the importance of the INTOSAI role in developing the control standards over the public sector; establishing the principles of transparency, accountability and integrity; promoting the independence of SAIs to preserve the public funds; and the good use for the purposes intended.
Dr. Al Amimi also stressed the need for concerted efforts to face the challenges ahead, in particular the United Nations approved development goals beyond 2015; the expected role of SAIs on evaluating the level of achieving these goals; determining weaknesses in financial systems; and the amount of institutional control mechanisms in federal sector departments.
The Governing Board agenda included a number of critical topics, such as the draft of activating the role of the INTOSAI Governing Board; the Strategic Plan 2017-2022; INTOSAI sub-committee and regional working group reports; and the UAE SAI report on the preparations of the next INCOSAI to be held in Abu Dhabi in December.
In a press statement on the margins of the meeting, Dr. Al Amimi said INTOSAI is concerned with the preservation of public funds and the continuity of economic growth in member countries, noting that the role of audit institutions will be different since adopting the development goals beyond 2015 by the United Nations.
In addition, he expressed that, during the next INCOSAI (to be held in the UAE in December 2016), the role of SAIs will broaden to include submitting reports illustrating the extent to which development goals are achieved. This is of general worldwide interest, as the preservation of public funds results in the economic sustainability and growth, as well as maintaining a high level of federal services to the public. Dr. Amimi added that, in the past 10 years, the State Audit Institution has adopted a number of changes in the work methodology—built on best practices of audit institutions around the world—and that this new methodology has been effectively implemented effectively during the past five years.
Moreover, Dr. Al Amimi stressed that there has been significant cooperation between the State Audit Institution and political decision-making positions in the UAE, represented by His Highness Sheikh Khalifa bin Zayed Al Nahyan, the Cabinet and the Federal National Council. The cooperation focuses on the establishment of transparency, integrity and accountability principles. Moreover, the State Audit Institution has been assigned to work on the United Nations Convention against Corruption (signed by the UAE in 2006).
Learn more at: http://saiuae.gov.ae/en/News/Pages/N12112015.aspx#sthash.z17X4VAf.dpuf