Inside INTOSAI
SCO Finalizes Parallel Audit on Health Care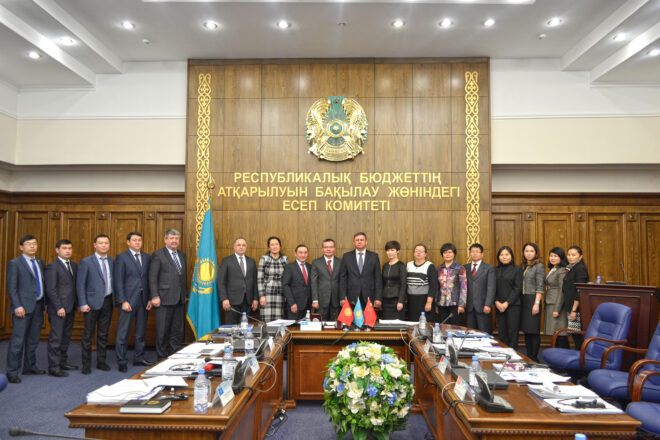 The Accounts Committee for Control over Execution of the Republic of Kazakhstan's Republican Budget, the nation's Supreme Audit Institution (SAI), hosted a joint meeting with the National Audit Office of the People's Republic of China (CNAO) and the Chamber of Accounts of the Kyrgyz Republic (Kyrgyz Republic SAI) in Astana, Kazakhstan, to discuss results of the parallel performance audit on health care for the Shanghai Cooperation Organization (SCO) member states.
The parallel audit objective was twofold: assess the use of public funds for health care and share experiences in conducting a health care audit.
Reports were presented by Mr. Serik Nugerbeko, delegate from SAI Kazakhstan; Mr. Guo Tong, Deputy Director General of the CNAO's Beijing Municipal Audit Office; and Ms. Aizhan Sadyrkulova, representing the Kyrgyz Republic SAI.
Mr. Nugerbekov noted a range of systemic shortcomings during the performance audit in the Republic of Kazakhstan, including cost system, legal regulation and air ambulance service imperfections.
CNAO's Mr. Tong informed meeting participants that problems noted while auditing Beijing medical institutions included weak internal controls associated with purchasing medical materials, as well as significant medicine cost differences. Clinical lab purchases and inventory management were also improperly insured, which affected information authenticity serving numerous medical reform policies.
Ms. Sadyrkulova noted an absence of clear priorities in implementing cardiac surgery state policy at the Scientific Research Institute of Heart Surgery and Organ Transplantation in Bishkek, Kyrgyz Republic. She also cited an overall deficiency in approved standards.
The parallel audit results, in general, revealed several problems connected to inadequacies in healthcare law, inefficient spending and planning of allocated budget funds, low-quality accounting of medicines, and a lack of business process organization.