Autumn 2017
SAI Serbia Celebrates 10 Years of Public Service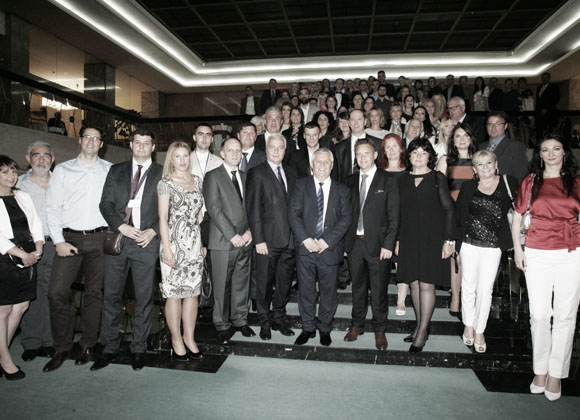 The Republic of Serbia's State Audit Institution (Supreme Audit Institution (SAI) Serbia) marked its 10-year anniversary with a solemn ceremony held in the Palace of Serbia June 7, 2017. The event, celebrating SAI Serbia's first decade of work, saw numerous distinguished guests in attendance, including Mr. Nikola Selakovic, envoy for the President of the Republic of Serbia; Mr. Radoslav Sretenovic, SAI Serbia President and Auditor General; and Ms. Bojana Mitrovic, SAI Serbia Council Vice President. Several embassy notables, SAI delegates and international organization representatives were also on hand to honor SAI Serbia, the nation's highest authority authorized to audit public funds.
"Ten years ago, very few people were familiar with SAI Serbia's competencies. Most often, we were asked what an auditor did. Today, as we celebrate our 10th anniversary, I can proudly say that we have become an independent, recognizable, trustworthy institution. Every penny invested in us, in our organization, has been more than repaid to the Republic of Serbia through our audit work," proudly remarked Mr. Sretenovic.
In its ten years of existence, SAI Serbia has published roughly 777 audit reports and published 1,243 audit products. A total of 6,467 recommendations were issued, and the percentage of recommendation implementation has steadily increased (currently at 75%). Based on SAI Serbia recommendations, a 7.6 billion dinar profit has been paid into the Republic of Serbia budget.
SAI Serbia continues to improve its work for the well-being of all citizens. Enhancing audit methodologies for financial, compliance and performance audits and advancing information management, operational and human resources strategies, staff, and processes allow SAI Serbia to adequately and actively present audit conclusions and findings, as well as cultivate and strengthen relations with its citizens, stakeholders and SAIs on a global scale.
Today, SAI Serbia is a fully-fledged member of the International Organization of Supreme Audit Institutions (INTOSAI), European Organization of Supreme Audit Institutions (EUROSAI), in addition to the Network of Supreme Audit Institutions of the EU Candidate and Potential Candidate Countries and the European Court of Auditors.
The recognition and trustworthiness SAI Serbia enjoys have been achieved through audit results and acceptance of recommendations issued to auditees over the years.