Inside INTOSAI
OLACEFS Holds XXX Ordinary General Assembly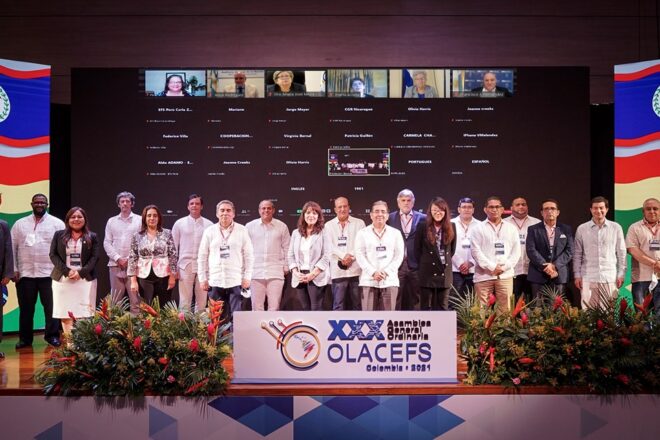 The XXX Ordinary General Assembly of the Organization of Latin American and Supreme Audit Institutions (OLACEFS) took place from December 1-3, 2021, in Cartagena de Indias, Colombia. The long-awaited meeting was held in a hybrid format, with the active participation of members and teams both in-person and virtually.
At the event, participants discussed how to improve management of public auditing; presented on the organization's progress at the regional and global levels; exchanged knowledge and experiences; and strengthened their collaborative ties. Specific topics discussed included "Preventive Control: Towards a Timely and Effective Approach of SAIs to Possible Irregularities in Public Management" and "Human Rights, a Challenge for SAIs."
The main agreements reached at the Administrative Session of the Assembly included the following:
SAI Bolivia was re-elected as Financial Auditor of OLACEFS for 2022-2023.
The OLACEFS Gender Equality and Non-Discrimination Policy was approved.
SAI Mexico was confirmed as organizer of the XXXI Ordinary General Assembly in 2022, and SAI Peru as organizer of the XXXII Ordinary General Assembly in 2023.
OLACEFS will request that INTOSAI declare an "International Government Auditor's Day."
The approval of the OLACEFS Gender Equality and Non-Discrimination Policy was the culmination of a long effort, as the SAIs of OLACEFS acknowledged the importance of incorporating a gender equality perspective into their work. As gender equality is one of the United Nations' Sustainable Development Goals (SDG 5), OLACEFS' Working Group on Gender Equality and Non-Discrimination developed a policy that reflected this principle.
The meeting's attendees included more than 20 of the region's SAIs, associate OLACEFS members, several SAIs from the broader INTOSAI community, and cooperating organizations. OLACEFS would like to thank the Office of the Comptroller General of the Republic of Colombia, the General Assembly's host, for its excellent organization of this successful event.