News in Brief
NAOL Approves Strategic Framework, Sets Ambitious Goal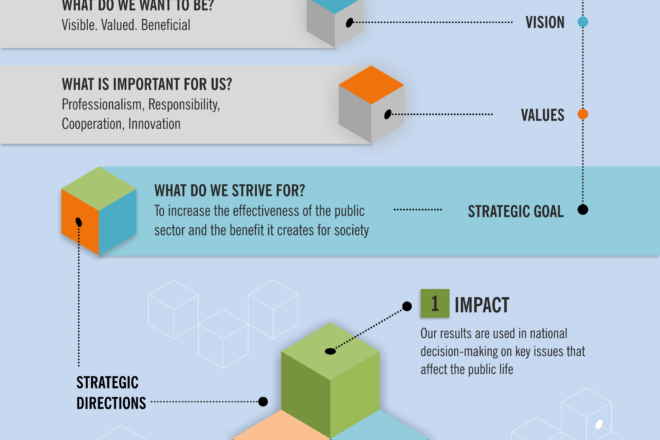 The National Audit Office of Lithuania (NAOL) approved a new long-term development document establishing the institution's mission, vision and values, as well as its ambitious strategic goal: to increase public sector efficiency and the value it generates for society. The NAOL will strive to achieve this goal by increasing audit impact, quality and communication.
We should develop our activity so that we can add the greatest possible added value and benefits for our citizens, inform the public about significant emerging national risks, propose ways of managing these risks, carry out work that produces valuable and measurable results and be an example to the public sector.
We will hold ourselves to the highest standards of quality, which will ensure quality results and conform to the requirements established by the International Standards of Supreme Audit Institutions, the International Standard for Quality Management Systems (ISO 9001), as well as various best practices.
We will use internal and external communication to shape and reflect the role of the NAO as the SAI in the public sector and the added value it generates in establishing the legal, fair and results-oriented management of public property and funds.
By implementing the new development strategy for 2016–2020, we will be guided by the values of professionalism, responsibility, cooperation and innovation. The NAOL will seek to become recognized as an independent SAI, where we are valued as experts in our field whose opinions are taken into account when decisions of national importance are made, and who contribute to positive changes in the public sector, thus leading to the greater welfare of the public.