Inside INTOSAI
Motivating, Equipping SAIs to Carry Out Peer Reviews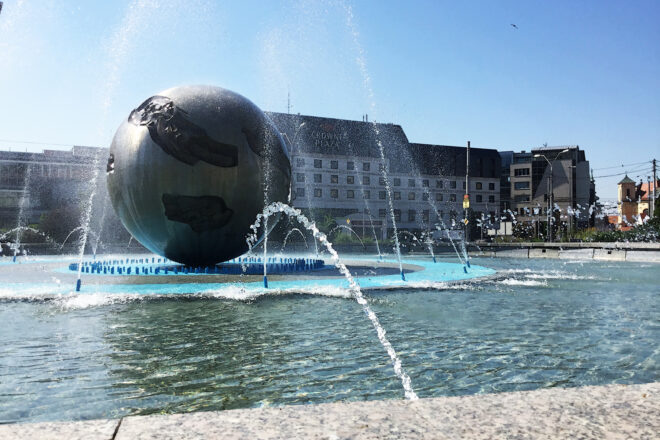 "Peer Reviews Uniting the World of INTOSAI."
The slogan on the 2018 Peer Review Conference opening slide was bold and gutsy, but the symbolism was fulfilled—the conference truly united the INTOSAI community as nearly one hundred delegates from 47 INTOSAI member organizations and some twenty participants from the host Supreme Audit Institution (SAI) served as proof.
From June 20-22, 2018, Bratislava, the capital city of the Slovak Republic, became, for a few days, a capital city for the INTOSAI world.
The global conference, marked by the theme "Motivating and Equipping SAIs to Carry Out Peer Reviews," provided a robust agenda that included 19 presentations, along with an engaging round table discussion and several panel-led deliberations.
Mr. Rajiv Mehrishi, the Comptroller and Auditor General of India, cited peer reviews as a proven, established practice within the INTOSAI community, and the number of executed assessments in peer reviews or other evaluation tools are witness to their growing importance.
"Peer reviews are a good way of upholding a SAI's reputation—exposing oneself externally combined with the willingness to change," noted one participant.
In his closing speech, Mr. Karol Mitrík, President, SAI of Slovakia, emphasized, "The SAI of Slovakia needs to be open. We cannot conceal anything, and we must lead by example. Peer reviews help achieve that."
The conference, which was covered heavily on social media, registered several hundred visits and interactions at the event's onset.
To learn more about the conference, including event materials, presentations, posters and photos visit https://www.nku.gov.sk/web/sao/peer-review-conference-2018.
Watch videotaped coverage of the official deliberations at https://www.youtube.com/channel/UCY0aPaQCSXFa1b-OaHSPDkw.
Follow the INTOSAI Journal's conference coverage and speech highlights at www.twitter.com/intosaijournal.