Autumn 2017
Malta NAO Hosts EU Contact Committee Seminars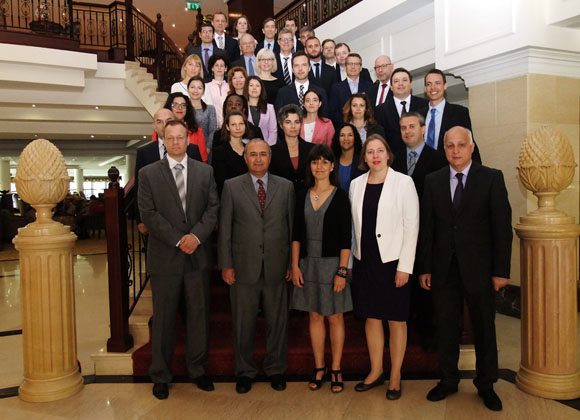 The National Audit Office (NAO) of Malta hosted the 2017 European Union (EU) Contact Committee joint seminars on the Fiscal Policy Audit Network and Europe 2020 Strategy Audit Network May 30-31, 2017. Thirty-five participants from 18 national audit institutions, along with European Court of Auditors (ECA) representatives, attended the Fiscal Policy Audit Network seminar designed to improve methodologies and practices in auditing national fiscal policy. The network, chaired by the National Audit Office of Finland, strives to share best practices and knowledge among the network's Supreme Audit Institutions (SAIs).
Mr. Charles Deguara, Malta's Auditor General, welcomed guests and highlighted the network's progress, touching on key issues, including public finance sustainability, tax policy and fiscal reform effectiveness, as well as the international debt crisis. During his address, he also conveyed his appreciation to Ms. Tytti Yli-Viikari, Auditor General of Finland, and Ms. Anna Furtado, representing the Portuguese Court of Accounts, for their ongoing collaboration in organizing the events.
Malta Fiscal Advisory Council's Mr. Malcom Bray offered an engaging presentation on the "Quality of Public Finances," where he highlighted the important roles independent fiscal and national audit institutions play in increasing public finance quality.
The Fiscal Policy Audit Network seminar then focused on three themes:
Fiscal Policy Preparation and Implementation;
Transparent, True and Fair Views of Central Government Finances; and
Public Finance Sustainability
The Europe 2020 Strategy Audit Network seminar followed with nearly 40 SAI delegates and ECA representatives in attendance at this forum aimed at sharing experiences and insight in auditing "Europe 2020" related topics.
The Portuguese Court of Accounts, chair of the Europe 2020 Strategy Audit Network, was represented by Mr. José Pinto Almeida, who opened the seminar citing the network's achievements since its establishment in 2009.
The agenda also included a brief overview on the "Europe 2020 Strategy: Education and Social Cohesion," offered by Dr. Jonathan Vassallo from the Office of the Prime Minister's Planning and Priorities Coordination Division.
Additional seminar topics focusing on Europe's 2020 Strategy included ongoing parallel audits, national audits, and related ECA work.