Autumn 2017
EUROSAI Joint Seminar on SAI, Auditor Relations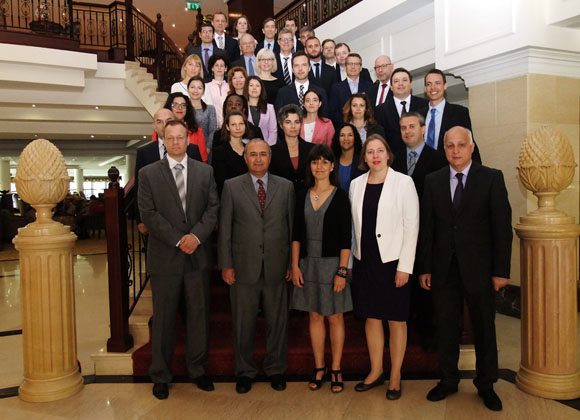 The European Organization of Supreme Audit Institutions (EUROSAI) teamed up with the European Confederation of Institutes of Internal Auditing (ECIIA) for a joint seminar in Brussels, Belgium, May 11, 2017. The event, hosted by the Belgian Court of Audit and chaired by Mr. Gijs de Vries, Visiting Senior Fellow at the European Institute of the London School of Economics and Political Science, marked the culmination of the EUROSAI-ECIIA cooperation in the 2011-2017 EUROSAI strategic framework.
Sixty-five delegates, including several Heads of Supreme Audit Institutions (SAIs), from 21 EUROSAI members and 15 ECIIA chapters attended the seminar, which focused on relations between SAIs and internal auditors in Europe's public sector.
The ECIIA President and Vice-Chair of EUROSAI (SAI Finland) opened the seminar that included several presentations and discussions from various SAIs and internal auditors, including:
Cooperation Between SAIs and Public Sector Internal Auditors on Informal and Formal Basis—SAI Austria and Institute of Internal Auditing (IIA) Hungary;
International Certification in Audit—European Commission Internal Audit Service (IAS);
Using the Work of Internal Audit in SAI Financial Auditing—SAI Netherlands;
SAI Methodological Approaches to Assessment and Performance Review of Internal Audit—SAI Russian Federation;
Risk Management in the Public Sector—IIA Spain;
National Cooperation Agreements Between SAIs and Internal Auditors in Europe— SAI Turkey;
Implementation of a Multilateral National Cooperation Agreement—SAI Lithuania;
The New Internal Audit International Professional Practices Framework—ECIIA Secretariat;
ECIIA and EUROSAI Survey Results and Recommendations Concerning Audit Committees in the Public Sector in Europe—IIA UK and Ireland and SAI Belgium; and
Prospective Visions of Public Sector Audit Evolutions in Europe—European Court of Auditors and IIA Spain.
The seminar report, presentations and other cooperation materials, including two new papers on audit committees and national cooperation agreements prepared by the EUROSAI-ECIIA Cooperation committee (2014-2017), can be accessed via EUROSAI's website here, as well as using this bookmark.
EUROSAI collaborated with ECIIA on several issues of common interest on the basis of EUROSAI's strategic plan 2011-2017 (Goal 2—Professional Standards) and cooperation agreements signed in 2011 and 2014, including the implementation of INTOSAI GOV 9150, "Coordination and Cooperation Between SAIs and Internal Auditors in the Public Sector," in Europe. The Court of Audit of Belgium was EUROSAI's operational cooperation lead in addition to serving as a EUROSAI Governing Board Member from 2011-2017. For more information concerning the EUROSAI-ECIIA cooperation 2011-2017 and the 2017 Joint Seminar, please contact international@ccrek.be.