News in Brief
Estonia, Finland Share Experience in, on Many Fields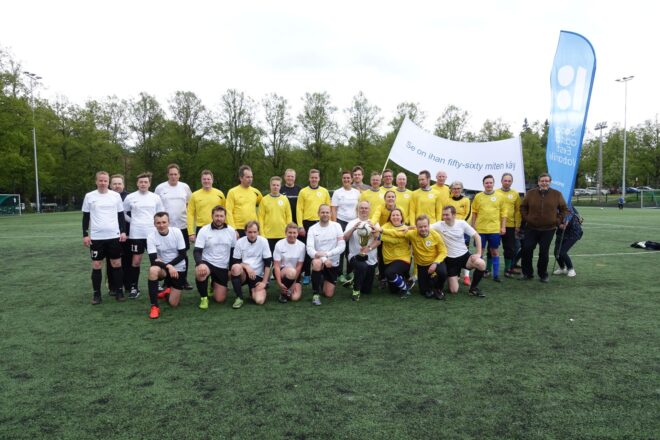 A delegation from the National Audit Office of Estonia (NAOE) visited the National Audit Office of Finland (NAOF) June 2, 2017, to share experience and practices on various auditing fields, including the football field!
Three parallel expert sessions were held: (1) Analytics and Auditing: Exchange of Experiences About Methods Applied in Audits; (2) Exchange of NAOE and NAOF Experiences in IT Auditing; and (3) Auditing Sustainable Development Goals: NAOE and NAOF Approach and Plans.
A fourth expert session was held at the day's conclusion on a nearby football field where the Estonian delegation (outfitted in white) and Finnish team (dressed in yellow) exchanged friendly handshakes followed by an equally amiable, yet deceptively competitive, football game.
The match, kicked off by Estonia's Auditor General (AG), Dr. Alar Karis, got underway with an unsettlingly strong start by the Finland crew, led by Ms. Tytti Yli-Viikari, the SAI's AG. Finland scored four goals in a row in the first half, yet the Estonians, backed by an enthusiastic cheering section, did not surrender. Estonia dug in their heels, strengthened their defense and went into halftime just one goal behind at 4-3.
The second half was a nail biter as the two teams continued to battle it out. By the end of the match, the trophy went to Estonia who outscored Finland 7-5. Estonia's win was a first since the trophy's establishment in 2007, and the current record stands 3 to 1 in Finland's favor. The next match is scheduled to take place in Tallinn, Estonia.