Autumn 2021
EFSUR Prioritizes Gender Equality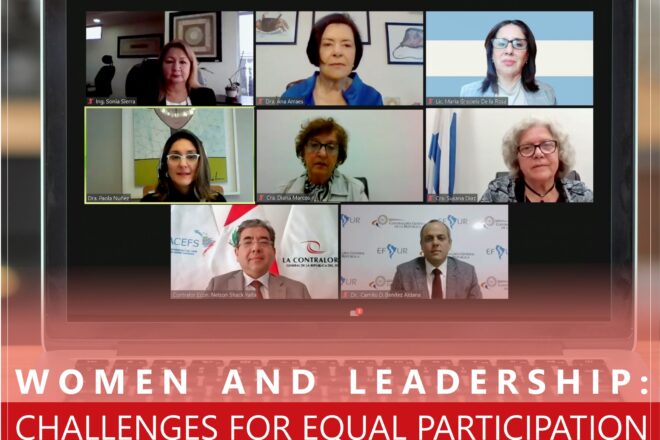 Gender equality is a priority issue and the focus of many activities conducted by the Organization of Supreme Audit Institutions of the Mercosur and Associated Countries (EFSUR). The organization is currently carrying out a coordinated audit on compliance with the United Nations' (UN) Sustainable Development Goal (SDG) 1 (end poverty), with special attention to how poverty and gender intersect.
This work, led by the Supreme Audit Institution (SAI) of Argentina and conducted by seven South American SAIs, focuses on SDG 1.2 (reduce poverty by at least half) and 1.4 (ensure equal rights to economic resources) and is underpinned by the awareness that women are often more vulnerable than men to the effects of poverty. The audit will shed light on how "the feminization of poverty" is affecting women throughout Latin America.
EFSUR also prepares an annual report on gender policy progress in member countries, an effort coordinated by SAI Ecuador, and since 2018 has been conducting international seminars on "Gender Equality: Advances and Challenges." These seminars feature experts in the field from international organizations such as the UN, United Nations Development Program (UNDP), and INTOSAI Development Initiative (IDI), as well as government officials and SAI staff from the region.
On August 26, 2021, EFSUR held a meeting on "Women and Leadership: Challenges for Equal Participation," with 371 participants from all over Latin America, including women leaders from SAIs in the region.
Participants included the Comptroller General of the Republic of Paraguay and EFSUR President, Dr. Camilo Benítez Aldana; Auditor General of Argentina and representative of the Executive Secretariat of EFSUR, Lic. Graciela de la Rosa; the Comptroller General of Peru and President of the Organization of Latin American and Caribbean SAIs (OLACEFS), Econ. Nelson Shack Yalta; Minister Ana Arraes, President of the Brazilian Federal Court of Accounts; CRA Susana Diaz, President of the Court of Auditors of Uruguay; CRA Diana Marcos, Minister of the Court of Auditors of Uruguay; and Ms. Sonia Sierra, Deputy Audit Comptroller of the Comptroller General of Ecuador.
In closing the event, Auditor General de la Rosa emphasized that "gender equality is a fundamental premise for audit institutions" and highlighted the importance of the coordinated audit on SDG 1.
EFSUR also held a meeting on September 30, 2021, that focused on the UN's 2030 Agenda for Sustainable Development as viewed through a gender lens. At this meeting, officers from SAIs in the region shared their experiences auditing the SDGs and gender issues. Participants were divided into four panels, in which they discussed the coordinated audit on SDG 1, the COVID-19 crisis and its impact on gender equality, the compilation of gender standards in the region's countries, and the development of policies to promote gender equality within SAI Colombia.
For more information on EFSUR's activities related to gender equality, please visit efsur.org.