Autumn 2017
ECA Delegation Visits Malta National Audit Office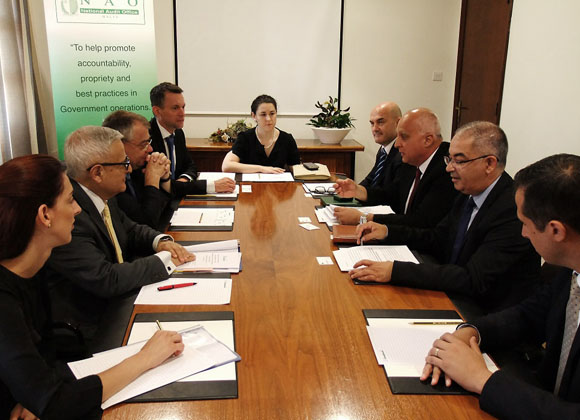 A delegation from the European Court of Auditors (ECA) visited the National Audit Office of Malta (NAO) June 26, 2017.
Led by Mr. Klaus-Heiner Lehne, ECA President, and accompanied by Mr. Leo Brincat, Malta's ECA Member, the officials met with NAO senior leaders, including Mr. Charles Deguara, Auditor General, and Mr. Noel Camilleri, Deputy Auditor General, to discuss ECA and NAO objectives, roles and support.
Mr. Lehne referenced ECA's primary objective as guardian of European Union (EU) funds—ensuring regularity, probity, value for money and sound financial management. He identified, in particular, benefits of the recently introduced ECA landscape reviews that consider broad themes relating to accountability, transparency, and effective EU funds management and utilization. Mr. Lehne also noted the key role of Supreme Audit Institutions in ensuring citizens regain trust in EU institutions.
Mr. Brincat conveyed his appreciation for the professionalism and independence the NAO has consistently shown and affirmed the ECA's honor in organizing a joint seminar hosted in Malta in September 2017. The seminar, "Audit Follow Up in the Public Sector: Enhancing Accountability," featured keynote speaker Mr. Martin Weber, Director in the ECA Presidency Directorate.
"NAO is committed to carrying out its constitutional mandate professionally, objectively and transparently," emphasized Mr. Deguara, and, he added, "We intend to promote good governance and the best use of public resources in the interests of our taxpayers."
Mr. Deguara reiterated NAO's readiness for the continued cultivation and strengthening of ECA relations to include participating in ECA-organized initiatives and providing technical and logistical support during ECA audit assignments in Malta.
Contact NAO at nao.malta@gov.mt or visit their website at http://nao.gov.mt for more information.