CAROSAI
Chairmanship of CAROSAI passed to the Court of Audit Aruba during the XII CAROSAI Congress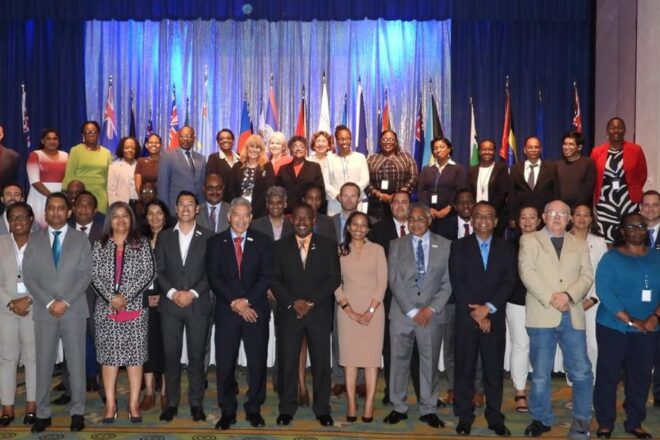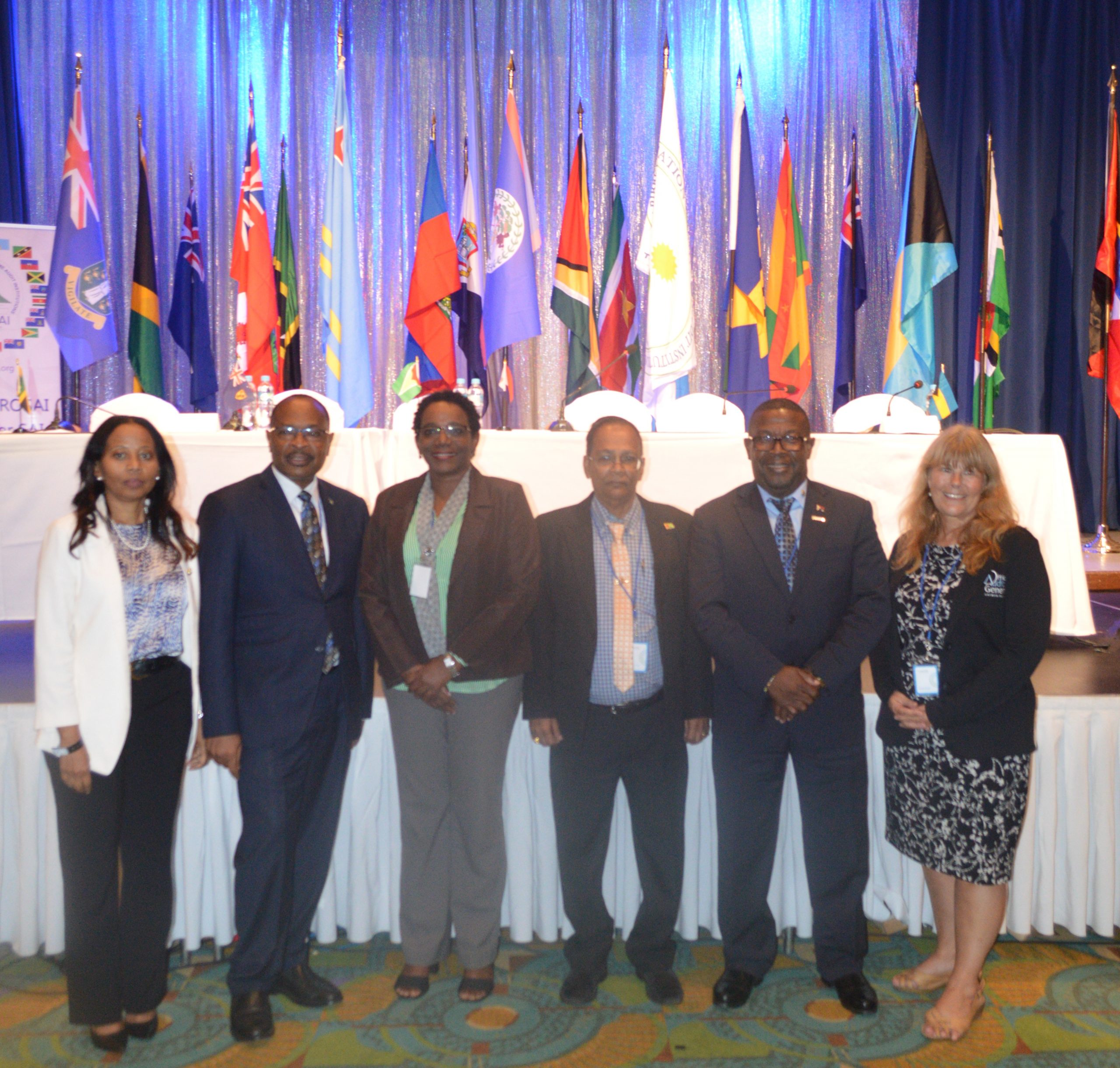 Source: CAROSAI Secretariat
Author: CAROSAI Secretariat
CAROSAI Congress is always a unique experience, and the most recent Congress was no exception: SAI Aruba went beyond expectations in providing a hospitable atmosphere, conducive for learning and sharing experiences. Although the sessions were intense, the beauty of the Island was not lost on the participants.
During the week of May 15th to May 19th, 2022, the XII CAROSAI Congress was organized in Aruba by the Court of Audit Aruba. The theme for the XII CAROSAI Congress, "Targeting Superior Audit Impact", promotes accountability, transparency, and inclusiveness. The first day included a Master Class given by Mrs. Carol Bellringer, President and CEO at Canadian Audit and Accountability Foundation (CAAF) and Mrs. Sheila Dodds, Deputy Auditor General of the Office of the Auditor General, British Columbia. The Master Class focused on the required elements to communicate effectively with the legislature, the media, and other stakeholders.
During the week, there were presentations on "Small Island Challenges" from both PASAI and CAROSAI. Mr. Khalid Hamid from the Chartered Institute of Public Finance and Accountability (CIPFA) presented on topics including retention of qualified staff, limited scope for SAI financial independence, and stakeholder engagement and implementation of SAI recommendations. Mr. Ola Hoem of INTOSAI Development Initiative (IDI) spoke on the performance measurement framework and strategy performance measurement and reporting. Mrs. Carolyn Lewis of SAI Jamaica presented the lead paper on "Targeting Superior Audit Impact", while the country paper and panel discussion on "Small Island Challenges" was led by Mrs. Xiomara Croes-Williams, followed by a panel discussion on the topic of Real Time Audit, which was presented by Mrs. Miriam de Cuba of SAI Aruba and Ms. Fiona Kingston from SAI Guyana.
The Congress was held in a hybrid format (face to face and virtual) and live streamed, which provided the opportunity for greater real-time participation of our members and stakeholders. This format fostered inclusivity and facilitated knowledge sharing and awareness building. CAROSAI was pleased to have participants from different countries attend the sessions virtually and interact on the various topics, thereby targeting impact at our regional and international level. Virtual presentations were made by: Mrs. Patricia McKenzie of the World Bank in Washington D.C., who spoke on enhancing accountability through independent SAIs; Mrs. Sinaroseta Palamo-Iosefo of Pacific Association of Supreme Audit Institutions (PASAI), who shared experiences on small island challenges, and; Goodwill Ambassador the Right Honorable Helen Clark of IDI, who gave a brief recording on SAI independence. Mrs. Deborah Sprietzer, Mrs. Allizon Milicich, Mr. Brian Barnier, and Mr. Osvaldo Rudloff of the Inter-American Development Bank (IDB) presented on the Digital Technology, Leveraging on Technological Advancement (LOTA), and pICTure initiatives.
The acting and incoming chair of INTOSAI, represented by Minister Vital do Rêgo Filho, was present during the Congress, invited CAROSAI delegates to the INTOSAI Congress that will be held in Rio de Janeiro, Brazil on November 7 to 11, 2022. The Superior Auditor of the Federation of Mexico, Mr. David Colmenares Páramo, gave a presentation on the topic of "SAI Impact: Audit of the SDGs".
During the General Plenary sessions, an amendment was passed establishing that member states can both participate and cast their votes virtually during meetings. The minutes and the financial reports from the last Congress held in Georgetown, Guyana, in June 2019, were approved by members present. The chairmanship of CAROSAI was passed from the Auditor General of Supreme Audit Institute (SAI) Guyana, Mr. Deodat Sharma, to the Chairwoman of Court of Audit Aruba, Mrs. Xiomara Croes-Williams. The following members were elected as new and returning officers to the Executive Committee: Mr. Alphons Gumbs of SAI St. Maarten; Mrs. Sandra Stephens-Malcolm of SAI Turks and Caicos Islands; Mr. Terrance Bastian of SAI Bahamas, Vice Chairman; Mrs. Pamela Monroe-Ellis of SAI Jamaica, Secretary General, and; Mr. Deodat Sharma of SAI Guyana, Immediate Past Chairman. Mrs. Sue Winspear of SAI Cayman Islands was elected as the CAROSAI representative to INTOSAI Governing Board, and Mr. Dean Evanson of SAI Antigua and Barbuda was re-elected as Auditor.
The Second General Plenary concluded with sessions on developing CAROSAI's Strategic Plan facilitated by Mr. Freddy Ndjemba of IDI.
In addition to the Congress, the program included social, educational and cultural events. A symposium was organized together with the University of Aruba focusing on small island challenges. Secondly, a cultural night was hosted together with the National Archaeological Museum of Aruba. Finally, an island bus tour was organized, where participants visited the Aloe factory & museum, the mural artworks in San Nicolas, and the water and energy plant (WEB). The various cultural, social and educational events showcased the talents and skill sets that exist in Aruba, and also showed that audit institutions in the Caribbean region, despite language differences, exist in similar environments and contexts and thus, face similar challenges.
The Congress forum created a safe space where the regional SAI leadership shared their experiences, challenges, and processes. The forum also provided opportunities for shared learning as SAIs all strive to develop strategies that can create more impactful supreme audit institutions across the region.
SAI Aruba commended members and participants for their attendance, expressed its commitment to serving as Chair of CAROSAI for the upcoming three years, and looked forward to continuing CAROSAI's vision of a "strong CAROSAI for stronger SAIs in the Caribbean".