Feature Articles
SAI Vietnam Capitalizes on International Auditing Standards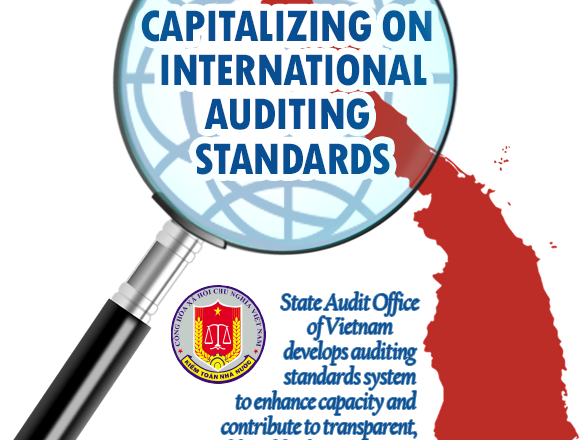 by Prof. Dr. Doan Xuan Tien, Deputy Auditor General of Vietnam
In the context of Vietnam's rising economy, along with strong regional and global economic integration, healthy, transparent and sustainable public finance holds extremely important implications. The State Audit Office of Vietnam's (SAV) role in monitoring and supervising the use and management of public finance and assets became an urgent and inevitable societal requirement. Through the adaptation of international auditing standards within Vietnam's legal, practical and operational environment, the SAV developed a supreme auditing standards system as a tool to enhance capacity and contribute to building a transparent and sustainable public finance structure.
Inevitably, when Vietnam's economic and social development becomes more advanced, a robust and transparent public finance structure becomes more imperative. Financial inspection agencies' roles and responsibilities must become more focused and enhanced, particularly when it comes to improving governmental accountability on public finance and property management; anti-corruption; preventing resource wastefulness; promoting international integration; carrying out public finance; ensuring transparency; and reforming administrative functions.
With its constitutionalized legal status (as defined in Vietnam's 2013 Constitution), the SAV has shown significant progress in terms of the state audit activities' size, quality, effectiveness and impact on the country's financial system, gradually equaling parliamentary and citizen trust and expectations. The SAV is fully aware of the requirement for accurate, honest and objective audit opinions. Therefore, the development and implementation of a supreme auditing standards system that complies with both International Standards of Supreme Audit Institutions (ISSAIs) and Vietnam's practical conditions and environment became essential to enhance SAV's independence, effectiveness and efficiency while cultivating the office's capacity, expertise, professionalism, status, credibility and image within the International Organization of Supreme Audit Institutions (INTOSAI) community.
For Vietnam, ISSAI application presents a valuable opportunity to essentially standardize and improve SAV's operational quality on macro and micro levels. The development of SAV's supreme auditing standards system is designed to achieve key organizational objectives as part of the office's strategic plan 2017-2020, including the completion of legal foundations; developing more modern and professional apparatuses and personnel; diversifying audit types; comprehensively improving audit quality; and, complying with international standards and practices. Ultimately, the application of this new system will play a major part in building a more transparent and sustainable public finance structure.
The Impetus for the New System
The SAV developed and promulgated the first supreme auditing standards system in 1999; however it was amended and revised to reflect the system's limitations and shortcomings; the organization's new constitutionalized legal status; an amended state audit law; requirements emerging from audit practices; and international integration trends.
The SAV made a commitment with the INTOSAI Development Initiative (IDI) and the Asian Organization of Supreme Audit Institutions (ASOSAI) in 2013 to develop a new supreme auditing standards system that is more scientific; better reflects Vietnam's environmental considerations; and is geared toward ISSAI compliance. After three years of research and collaboration with industry-leading experts that included the Ministry of Finance (MOF), the Vietnam Association for Certified Public Accountants (VACPA), major independent audit firms, universities, and SAV senior auditors, the SAV officially developed and endorsed the revised supreme auditing standards system.
The revised system, along with a comprehensive list of standards and terms, was officially issued July 15, 2016, by the State Auditor General. This new system consists of three auditing standards (distinguished as "Levels 2-4") for all three types of audits—financial, compliance, and performance.
Level 2: The prerequisites for the implementation of supreme auditing function, such as a code of professional ethics and audit quality control;
Level 3: The basic auditing principles as the basic principle of state auditing activities, as well as the basic principles of financial audit, compliance audit and performance audit; and
Level 4: Auditing guidelines: detailed instructions on audit risk management, audit materiality determination, audit sampling, analytical and auditing procedures for beginning balance.
The Impact of the New System
The newly revised supreme auditing standards system will positively and profoundly impact five major groups of beneficiaries, including the SAV itself, state auditors, auditees, the National Assembly and Government's bodies, as well as the public.
The system, comprised of principle and core guidelines, will (1) serve as a fundamental tool for auditors throughout the audit process; (2) support the SAV in guiding, inspecting, monitoring and assessing state auditors' performance, as well as that of associated stakeholders; (3) provide information and guidance to auditees regarding coordination and cooperation during the audit process; and (4) assist the National Assembly and Government bodies, state administrative agencies, and the general public in monitoring the audit activities carried out by the SAV, thereby improving the transparency of audit activities; ensuring the accuracy, truthfulness and objectivity of audit opinions; and reinforcing confidence in the quality and impact of state audit endeavors.
The Practice of the New System
One of the SAV's top mid-term priorities is to quickly put the new supreme auditing standards system into practice. The SAV has developed specific and practicable road map to implement the system comprehensively and effectively.
Executing the implementation plan will require SAV auditors to be thoroughly aware of the fundamental meaning, value and importance of the supreme auditing standards; be open to change and innovation; and be willing to apply the updated professional knowledge and auditing standards. Similarly, auditees, the National Assembly and Government bodies, state administrative and supervisory agencies, and the public will also need to be explicitly aware of the SAV's legal status, role and functions in inspecting and monitoring the country's public finances. These initiatives will allow the SAV fully implement the new system, strengthen its capabilities, improve state audit quality, and, ultimately, fulfill the SAV's responsibility to preserve a transparent, healthy and sustainable national public finance structure.