Q2 2023
Scaling Up Donor Support for Climate Change Responsiveness 
One of the new collaborations of INTOSAI Donor Cooperation is with the INTOSAI Working Group on Environmental Auditing (WGEA) on climate change. As a project under WGEA's climate and biodiversity hub, the first planned activity is to roll out training for developing country SAIs on applying funding to help them build capacities in becoming responsive to climate change. WGEA has also surveyed SAIs that are interested in engaging with mentoring arrangement between more advanced SAI and a beginner SAI on specific environmental topic, including climate, and a pilot on mentoring by peers, is being rolled by IDI's Global Foundations Unit.
Vivi Niemenmaa, Secretary General of the WGEA presented in the IDC meeting's climate panel the WGEA work on climate since 2010, ongoing projects as well as capacity building needs. WGEA audit database reveals that performance audits on climate have so far been conducted by SAIs in Global North. Niemenmaa stressed that environmental and particularly climate area is developing rapidly, and this concerns both the science as well as policies. Combined with the fact that climate change increasingly affects economies and pose existential threats in SIDS, the capacity development needs in SAIs are urgent.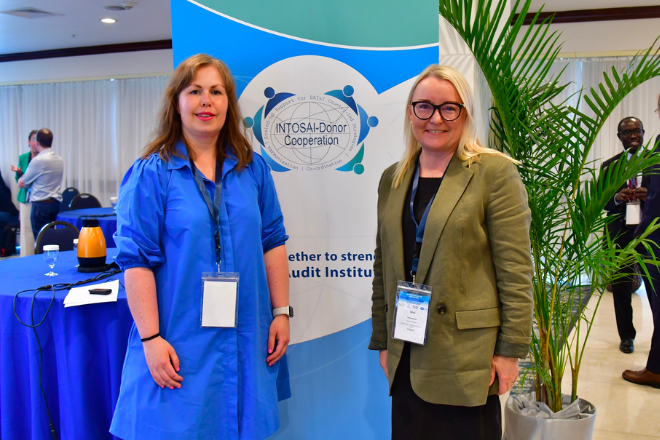 Niemenmaa pointed out that it is not sufficient to look only at the governments' spending on climate. In addition, SAIs should look at the spending having adverse impacts on climate, such as subsidies to fossil fuels.
IDI Senior Manager Camilla Fredriksen confirmed that there has been an increased interest from donors under the Cooperation in supporting SAIs in addressing climate change in audits. From her former experience in working on the topic, she has seen that climate change capacities often go beyond the typical audit techniques, and that lesser resourced SAIs often face hurdles in implementing the audits because of their complexity and technical nature. "It's therefore especially important for donors who wants to support SAIs in these endeavors, which are both timely and relevant in relation to the SDGs, to theme up with the best technical experts in the area, to facilitate results. The collaboration with WGEA will help us ensure this, and bring donors and SAIs closer together, and improve their joint understanding on the impact SAIs can have.